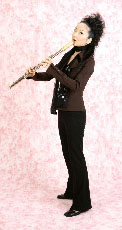 "There are three musical instruments I would like to play for the rest of my life.
"One is the flute which, along with the piccolo, I carry everywhere. These instruments are inseparable from me. As a professional flautist, I perform with both symphony orchestras and chamber music ensembles.
"The second one is the shakuhachi. Recently, I completed an entry-level course for this instrument. My shakuhachi teacher is my father, Tanifuji Kozan, who I greatly respect as a musician.
"The third one is the Shakulute. This is a new musical instrument that is very unique and fun to play. One of my students who had trouble getting a good sound on the transverse silver flute, tried out the Shakulute which helped him achieve a better tone. It is not a far-fetched dream to have a Shakulute ensemble in the near future. This is not only a dream, but a real possibility.
"I usually perform with a harpist with whom I have done many concerts. At these concerts we play Japanese songs, Peruvian folk music and jazz standards. I am particularly taken by the deep lower tones produced by the Shakulute. These cannot be played in quite the same way on the silver flute. I find this fascinating and it enables me to perform on this instrument for many hours without becoming tired. Most of all, the excitement of the audience when it first sees, then hears the Shakulute, is gratifying and encourages greatly me as performer. Using this instrument has allowed me to rediscover the joy of performing in a live concert venue.
"I am very happy to have these kinds of experiences using the Shakulute and look forward to new possibilities that it offers. I deeply appreciate having the opportunity to perform on this innovate new instrument.
"Domo arigato gosaimasu."