The FLUTE SAVER is an innovative new approach in caring for your shakuhachi or any other wooden flute. It incorporates a two-way moisture control system that maintains a constant relative humidity (RH) level optimum for musical instruments. Best of all, it does so automatically without guess work or adjustments based on climate, temperature, season or geographical location. There is absolutely no maintenance or intervention required.
Unlike the Dampit or other fill-type humidifiers, water never has to be added. When stored in a sealed environment the FLUTE SAVER guarantees that your shakuhachi will experience virtually no fluctuations in relative humidity that can damage the instrument. It's as easy as placing a single control system packet inside the acrylic tube, flute case adapter unit or vapor barrier flute bag and closing the lid. That's all there is to it.
A digital temperature/humidity meter comes with the FLUTE SAVER kit allowing you to keep an eye on the system and help determine when it is time to put in a new packet. The control packets are designed to last from two to four months before having to be replaced.
During the course of its life, a shakuhachi, transverse bamboo or wooden flute will spend far more time in storage than actually being played. In the vast majority of cases, cracking occurs during this period of respite. Since the physical space required for storage barely exceeds the size of the flute itself, temperature and relative humidity inside this environment can be effectively controlled and monitored with the use of the FLUTE SAVER. This virtually eliminates the possibility of cracking during the time when an instrument is most vulnerable.
The FLUTE SAVER system can be used in sealable enclosure in which your instrument will fit.
PROTECTION FOR YOUR FLUTE AT HOME OR ON THE ROAD
The FLUTE SAVER KIT & ADAPTER is a versatile storage system equally effective at home in an easy to monitor clear acrylic tube or when traveling using a flute case adapter kit or right inside a vapor barrier flute bag and hardshell carrying case. The Flute Saver Adapter is a seamless plug-in extension that can be used with any Tai Hei Shakuhachi hardshell carrying case. It allows you to store and monitor your instrument safely when you are at home or on the go.
The FLUTE SAVER ADAPTER can be inserted directly into the top of the carrying case. When at home, it allows you to monitor temperature and relative humidity by inserting the 12" clear acrylic tube into the top of the case and placing the digital meter inside. When on the road, simply remove the tube and place your flute, Flute Saver packet and digital meter into the case or into the flute bag itself. This strategy guarantees that the bamboo will experience no fluctuations beyond optimum for musical instruments (about 50% RH) when stored or transported—most of its life other when being played.

AT HOME: Flute Saver Kit & Adapter plugs into any of the hardshell Carrying Cases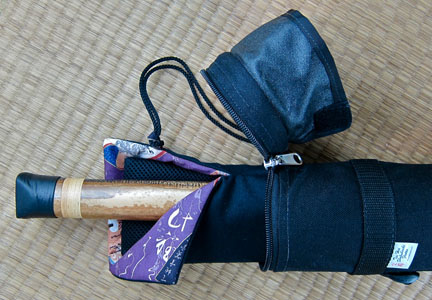 ON THE ROAD: Flute Saver & Flute Bag can be used with the Carrying Case
• FLUTE SAVER KIT for use with any sealed enclosure
• FLUTE SAVER KIT ADAPTER for use with CARRYING CASE

• FLUTE SAVER COMPONENTS