Producing a Sound on the Shakuhachi Flute

---

Free On-Line Shakuhachi Lesson
---
Here are a few tips on blowing to help you get started with your new shakuhachi.
Keep all the holes open at first. It will be much easier to produce a sound this way and will allow you to concentrate on holding the shakuhachi in the proper position. In this regard, posture is important. Sit or stand up straight so your breathing is not constricted. Keep the spine erect, but relaxed. In other words, don't slouch. Once you succeed in producing a tone, work your way down the scale closing the back hole first.
It is not necessary to blow very hard. A steady stream of air works better than a strong blast. Rest the flute on your chin and experiment with the angle at which it is held. You are trying to split the air column coming through your lips across the blowing edge, so aiming is important. The opening between your lips should be slightly elliptical (oval) rather than round. To achieve this, don't pucker as if you are kissing, but stretch the upper lip ever so much. In other words, smile when you play the shakuhachi. Playing in front of a mirror may be helpful to achieve the proper embouchure—relationship of your lips to the blowing edge of the flute.
A picture being worth 1,000 words: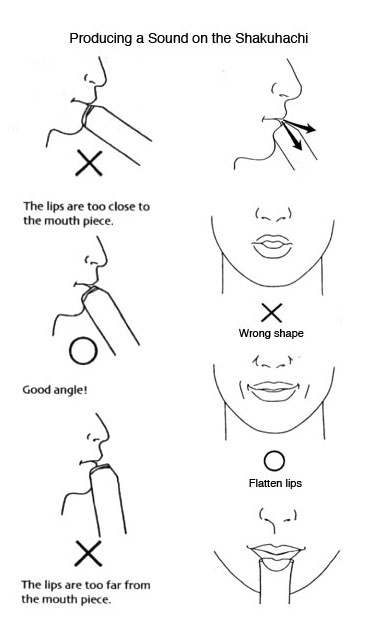 From Takashi Tokuyama, Také-no-Michi: A Beginner's Guide to Learning Shakuhachi Honkyoku
That being the case, a video is worth about 10,000!
This short video excerpt from Bruce Huebner's Shakuhachi for Beginners DVD shows you how to do it.
Once you are able to play all the notes, try to extend and control the envelope of sound. Focus on your breathing, Take a deep breath rather than short, shallow pants. Breathing "high" from the lung is what we do when frightened or stressed, and is designed to get as much oxygen into the bloodstream as quickly as possible. Over and extended period of time, this type of hyperventilation may result in dizziness. Breathe deeply and "low" from your diaphragm to avoid this from occurring.
It is important to know when to take a break. If you become frustrated, put the flute down and come back to it later. Your shakuhachi will be patiently waiting for you to return.
Producing a sound on the shakuhachi is a bit like learning to ride a bike. Once you get it (and you will), you're off on an incredible journey!
---
Receive a free private on-line shakuhachi lesson
from one of two master teachers
with any new Professional, Advanced Student, Student model instrument or Shakuhachi Yuu purchased from Tai Hei Shakuhachi
If you are just starting out on the shakuhachi, this is a great way to learn the basics of flute care, posture, breathing, and sound production.
If you already have some experience with the instrument, it will certainly help to refine your technique and familiarity with the traditional music.
There is no obligation to sign up for lessons beyond this free introductory session, so I encourage you to take advantage of their expertise via this generous offer. Please note, this offer applies to purchase of new instruments only, and is limited to one lesson per customer.
Masayuki Koga

Patrick Johnson

Masayuki Koga, world-famous performer, teacher, author, and shakuhachi master, founded the Japanese Music Institute of America (JMI) in 1981 to introduce the highest quality of shakuhachi music to the USA.

Located in Berkeley, CA, JMI has fostered the appreciation and study of both traditional and contemporary musical practice with private instruction and ensemble training, comprising the core of JMI's offerings.

In addition, JMI presents concerts, produces recordings, and publishes shakuhachi instructional guides and texts.

To arrange for your free lesson, contact Masayuki Koga
via email at [email protected]


Patrick Johnson has studied shakuhachi for more than 25 years, including an extensive repertoire of Japanese folk songs, popular pieces, and particularly Koten Honkyoku, the meditation music .

He is the founder and chief instructor of the Seattle Shakuhachi Study Group, a flute dojo that has its headquarters in the Ballard neighborhood of Seattle. The Seattle study group is formally affiliated with the Kokusai Shakuhachi Kenshukan (International Shakuhachi Training Center) in Tokyo, in the Koten Honkyoku lineage of Yokoyama Katsuya and Watazumi Doso Roshi.

To arrange for your free lesson, contact Patrick Johnson
via e-mail at [email protected] or by phone at (425) 238-9254
---