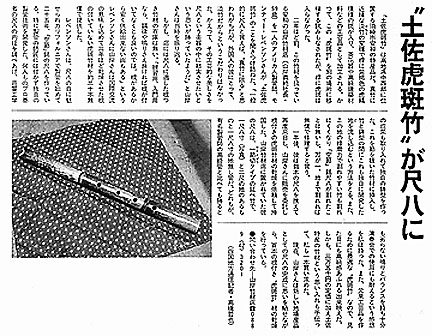 Shakuhachi
made from
Torachiku
(Tiger Bamboo)
(English Translation)

"Torachiku is a special resource from Awa in the city of Susaki which is located in the west central part of Kochi Prefecture. This bamboo is a variety of hachiku which is similar to madaké, but distinguished by its purple-brown color and mottled pattern. It is used to make implements for the traditional arts of tea ceremony and flower arranging in addition to its many uses as high-quality architectural material. Torachiku is used for interior design in the Japanese home as well as outside and in the garden. Attempts to transplant torachiku to other locations in Japan have failed to reproduce it distinctive color and pattern.

"Two years ago an American shakuhachi maker, Monty Levenson, who heard about torachiku visited Yoshio Yamagishi at his bamboo material warehouse. Discussing Mr. Levenson's visit, Yamagishi said, "It is generally thought in Japan that shakuhachi must be made only of madaké bamboo. But this foreign shakuhachi maker had no strong attachment to such an idea. He was struck by the beauty of torachiku and wanted to use it in making his musical instruments. This impulse was stronger than any fixed notion as to what form the shakuhachi had to take." At his warehouse Mr. Yamagishi did not have root-end torachiku in stock. But Mr. Levenson said, "For beginning players and students of the the shakuhachi, the root end is not as important as having the instrument play well and in tune. Using root bamboo necessarily increases the price of the flute, making it more difficult to fulfill the commitment I have to providing high-quality instruments that are also affordable." Mr. Yamagishi gave Levenson 30 pieces of torachiku that had been dried over three years. He considered this as part of an international cultural exchange.
"Mr. Levenson, who is fascinated by the sound of the shakuhachi, has been making this instrument for over 25 years in northern California and uses ku setsu as his hanko (mark). He has developed his own innovative way to make shakuhachi which is extraordinary because Mr. Levenson did not study or apprentice under a traditional maker in Japan. First, he measured the bore dimensions of many instruments used by professional players. Based on this analysis, he used his knowledge of acoustical physics to create a mold which is inserted inside the hollowed bamboo and used as a form to cast a precision bore. Resin is poured between the mold and the bamboo. This casting method of making shakuhachi bonds the bamboo and resin very strongly and significantly inhibits cracking. Never once has a bound ku setsu shakuhachi split into the bore. Levenson offers a guarantee against such an occurrence and will repair for free or replace any instruments that cracks in this manner.
"A year later, Mr. Levenson visited Yamagishi and left him a few shakuhachi. He asked Mr. Yamagishi to please harvest and dry some root-end torachiku for the coming season. The instruments he left with Yamagishi were hitoyogiri-type (non-root), one-piece shakuhachi, cast-bore 1.8' and 2.0' as well as a 1.8' jinashi-kan (natural bore) flute. All of these instruments play extremely well, have good balance and are not in any way inferior to high-quality shakuhachi made by famous makers in Japan. I felt these shakuhachi played well enough to be used in concert. Also, this special bamboo, perfectly suited to quality traditional craft work, makes a very beautiful musical instrument. The quality of the flute and beauty of the bamboo (a special resource of Kochi), combined with the inexpensive price (¥35,000) convinced me to buy one of these shakuhachi. Now Mr. Yamagishi is drying over 100 torachiku root pieces in his warehouse with a vision to provide shakuhachi made from this unique local product."
-Tetsuya Takahashi, Correspondent from Shikoku
---

Shakuhachi Endorsements


Jinashikan Endorsements

Shakuhachi Repair & Restoration Endorsements
---

Tai Hei Shakuhachi Homepage


Main Menu