KOKUSAI BUNKA SHINKOKAI

Rare Archival Field Recordings
of
TRADITIONAL JAPANESE MUSIC

1941
In 1941, shortly before Japan declared war on the United States, a set of recordings were made of traditional Japanese music. These recordings were meant to be given only to educational institutions and not sold. Right before starting their distribution, war broke out in 1941. Only two copies of these recordings existed after World War II of which one set was given to Beate Sirota Gordon for safe keeping.
Beate Sirota Gordon, age 22, accompanied the U.S. Army to Japan in 1946. She had grown up in Tokyo with her parents. Her father was the famous Leo Sirota who moved to Tokyo, Japan where she lived for about ten years before moving to Oakland, California, in 1939. Apart from belonging to a famous family, Beate Sirota Gordon is famous in her own right. She was a member of the team that drafted the Constitution of Japan under Douglas MacArthur. She is considered an American icon among Japanese women for helping secure women's rights and equality by writing portions of articles into the Japanese Constitution. During her mission, Donald Ritchie, a noted film historian, discovered a set of these recordings and gave them to her. Gordon presented them to World Arbiter Records in the late 1990s. Aside from her copy, only one other complete set is known to have survived the war in Japan, as they were possibly destroyed in a warehouse bombing.
Listen to an Interview with Beate Sirota
The people of post-war Japan and the rest of the world now have the chance to hear these lost recordings of Japan's broad cultural legacy. On these recordings, one is struck by a sense of eternity belonging to a culture living in a mind-set of immortality and permanence, an ease buoying virtuosity and intricate musical forms, revealing a gripping authenticity that later performers hint at.
These recordings of the Kokusai Bunka Shinkokai, heard with excerpts from theater and songs performed by many artists born in the Meiji period. They represent the earliest examples of ancient classical traditions. In the late 1930s, Japanese musicologists and experts completed years of work on a project to record their country's musical cultures, starting with ritualized shamanic traditions of the palace's gagaku, Buddhist chant, Noh theater, blind lute (biwa) players chanting medieval epics, a body of koto music, shamisens of kabuki dances, folk songs of workers, artisans, farmers, and children's songs. Five volumes, each with 12 78 rpm discs, comprised the leading performers of the time, many born into a Japan that newly opened to the West in 1868, taught by masters of an earlier isolated Japan. This third of five discs contains significant examples of the koto and shamisen literature, dances from Kabuki and puppet theater traditions, many originating in the 1700s.
---
"The International Cultural Council (Kokusai Bunka Shinkōkai) produced a set of LPs documenting the traditional music of the Japanese home islands. Originally produced in five volumes of a dozen 78s each, and recorded over the span of five years by ethnomusicologists Tanabe Hisao and Machida Yoshiaki, the series attempted to document performances of shakuhachi, koto, shamisen, gagaku, festival music, religious music, theatrical music, and folk music with roots in the early modern Tokugawa period (1600-1886) or earlier. This was actually one of several projects attempting to preserve pre-opening Japanese culture and place it in the context of the rest of Asia and the world, but the only one which appears to have survived the end of World War II, thanks in no small part to the efforts of western Japan experts Beata Sirota Gordon and Donald Richie.
"The third of a projected five CDs, this release includes a variety of koto music from the two major schools (Ikuta-ryū and Yamada-ryū), as well as shamisen music from the jōruri (puppet) and kabuki theatrical traditions. The recordings were of the highest quality, as were the performances, although the casual listener may find it difficult at first to hear this excellence through the surface noise, which was minimized but not removed in the digital restoration by Allen Evans. The English liner notes by Dr. Terauchi (an accomplished scholar of traditional Japanese music specializing in gagaku) provide some musical and historical context, as well as brief descriptions for each cut; the Japanese notes are significantly more complete, however. Listeners with little knowledge of Japanese traditional music may want to augment the notes with more in-depth sources, such as William Malm's Traditional Japanese Music and Musical Instruments (Kodansha, 2000) or the volume of the Garland Encyclopedia of World Music on East Asia.
A Note About Recording Quality

[These CDs have not been remastered or otherwise acoustically modified. They are taken directly from the original vinyl records without any alternations to the sound quality.]
"Unfortunately, due to the short playing time of 78 RPM discs (less than four minutes per side), most of the recordings represent excerpts from or condensations of longer pieces. . . . In short, this is a disc for specialists and enthusiasts, not for the casual listener. For the former, however, this is a priceless contribution, providing a rare window into pre-war, and in some cases pre-modern, Japanese music."
From a review by Richard Miller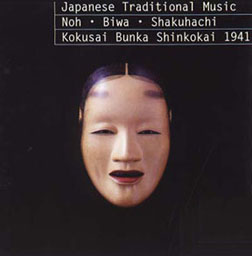 S-X5a. TRADITIONAL JAPANESE MUSIC:
NOH • BIWA • SHAKUHACHI
Kokusai Bunka Shinkokai -1941
This second volume of the 1941 Kokusai Bunka Shinkô-kai (KBS) recordings features Noh theater masters, many of whom had been trained by artists active before the Meiji (1868) period. An essay and texts in both English and Japanese with translation are included in the CD. Noh, a masked play, was established by the actor Kan'ami Kiyotsugu (1333-1384) and his son Zeami Motokiyo (1363-1443) in medieval times. Based on various earlier forms such as sangaku (acrobat and juggling), dengaku (dance and play derived from rice festivals), and kusemai (dance), the noh created a far more highly artistic form of theater than ever before. Japanese biwa music is characterized by a narrative with biwa accompaniment. The instrument, born in ancient Persia and introduced into Japan around the 8th century as a component of the royal court's gagaku ensemble, is a four stringed lute plucked with a large plectrum. In the late 12th century, blind Buddhist priests developed a unique narrative style, using this instrument as an accompaniment. The shakuhachi is a vertical bamboo flute sharply edged in its flue. Its standard length is about 54 cm., but there are shorter or longer types than this standard. Shakuhachi was traditionally played by komusô, Fuke-shû priests (a Zen Buddhist sect). The blowing of a shakuhachi (sui-Zen, literally "blowing Zen") was a komusô's religious act equivalent to chanting a sutra.
Music for the Noh theater
1 Takasago (su-utai) utai: Kanze Tetsunojô VI
2 Yashima (su-utai) utai: Kongoô Iwao I
3 Hagoromo (ban-bayashi): part I
4 Hagoromo (ban-bayashi): part II
utai: Sakurama Kintarô, ô-tsuzumi:
Kawasaki Rikichi, ko-tsuzumi: Kô Gorô
taiko: Kakimoto Toyoji, nô: Issô Eiji
5 Matsumushi (su-utai) utai: Kita Roppeita
6 Aoi-no-ue (su-utai) utai: Sakurama Kintarô
7 Hachinoki (su-utai): part I
8 Hachinoki (su-utai): part II
shite: Sakurama Kintarô, tsure: unknown,
waki: Hôshô Arata
9 Youchi Soga (icchô): part I
10 Youchi Soga (icchô): part II
utai: Kondô Kenzô, ko-tsuzumi: Ôkura Rokuzô
11 Teika ichiji no dai (dokugin): part I
12 Teika ichiji no dai (dokugin): part II
utai: Umewaka Manzaburô I
13 Sanekata (su-utai): part I
14 Sanekata (su-utai): Part II
utai: Hôshô Arata
Kyôgen kouta
15 Tsuchiguruma, "Nanatsu ni naru ko"
16 "Uji no sarashi", "Fuku no kami"
utai: Shigeyama Sengorô
Biwa
17 Môsô biwa: Jishinkyô
vocal and biwa: Kitada Meichô
18 Heikyoku: Nasu no Yoichi
vocal and biwa: Satô Masakazu
19 Satsuma biwa: Ko-Atsumori
vocal and biwa: Yoshimura Gakujô
20 Chikuzen biwa: Gishi no honkai
vocal and biwa: Tanaka Kyokurei
Shakuhachi
21 Fuke shakuhachi: Ajikan
shakuhachi: Miyagawa Nyozan
22 Kinko-ryû: Kokû reibo
shakuhachi: Aoki Reibo I
23 Tozan-ryû: Iwashimizu
shakuhachi duo: Katayama Yûzan, Sekino Shôzan
24 Miny'ô-shakuhachi: Oiwake-bushi
shakuhachi: Wakui Kogetsu


Matsumushi (su-utai) utai: Kita Roppeita
This CD includes recordings of
Aoki Reibo I
初世 青木 鈴慕
(1890-1955)

Miyogawa Nyozan
宮川 如山
(1868-1946)
CD
$15.50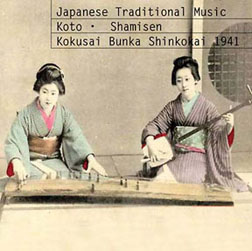 S-X5b. TRADITIONAL JAPANESE MUSIC:
KOTO • SHAMISEN
Kokusai Bunka Shinkokai -1941
1. Hien no kyoku (Ikuta-ryû)
uta: Kikuhara Hatsuko, koto: Kikuhara Kotoji
2. Rokudan (Shin-Ikuta-ryû)
koto: Nakahashi Gyômu
3. Shôchikubai (Ikuta-ryû)
koto: Yonekawa Fumiko, shamisen: Kawase Satoko, Fukuda Eika
4. Kogô no kyoku (Yamada-ryû)
koto: Koshino Eishô, Onodera Tamae, shamisen: Fujii Chiyoga
5. Chidori no kyoku (Ikuta-ryû)
koto: Yokoi Mitsue, kokyû: Satô Masakazu
6. Mikuni no homare (Ikuta-ryû)
koto (low): Yonekawa Chikatoshi, koto (high): Katô Jûko
7. Miyako no haru (Yamada-ryû)
koto: Yamamuro Chiyoko, shamisen: Chibu Tose, shakuhachi: Nôtomi Judô
8. Shin-sarashi (Yamada-ryû):
koto: Imai Keishô, shamisen: Yamase Shôin
9. Kumagai Jun'ya no dan from Ichinotani Futabagunki
jôruri: Takemoto Oritayû , shamisen: Takezawa Danroku, Nozawa Katsuyoshi
10. Kitsune bi no dan from Honchô nijûshikô
jôruri: Takemoto Oritayû , shamisen: Takezawa Danroku, Nozawa Katsuyoshi
11. Sakaya no dan from Hadesugata onna maiginu
jôruri: Takemoto Oritayû , shamisen: Takezawa Danroku, Nozawa Katsuyoshi
12. Nozaki-mura no dan from Shinpan utazaimon
jôruri: Takemoto Oritayû , shamisen: Takezawa Danroku, Nozawa Katsuyoshi
13. Sukeroku yukari no Edo zakura
jôruri: Yamabiko Yoneko , shamisen: Yamabiko Hideko, Yamabiko Yaeko
14. Matsu no hagoromo
jôruri: Miyako Ichiume, shamisen: Miyako Ichihana
15. Sekitori senryônobori
jôruri: Fujimatsu Tsurutayû, shamisen: Fujimatsu Tsurutodayû, Fujimatsu Tsuruhachi
16. Toribeyama
jôruri: Miyazono Senhiro, shamisen: Miyazono Senyae
17. Shin-utsubo
jôruri: Tokiwazu Matsuodayû, shamisen: Tokiwazu Mojibee, Tokiwazu Yaohachi
18. Ichikawa yamauba
jôruri: Tokiwazu Mitosedayû, Tokiwazu Mitosedayû, shamisen: Tokiwazu Mojibee, Tokiwazu Yaohachi
19. Kanda-matsuri
jôruri: Kiyomoto Umejutayû, shamisen: Kiyomoto Umekichi, Kiyomoto Umesaburô
20. Sanja matsuri
jôruri: Kiyomot Shizutayû, shamisen: Kiyomoto Eijirô, Kiyomoto Eiji
21. Echigo-jishi
uta: Yoshimura Ishirô, shamisen: Kineya Rokuji, Kineya Rokushirô, fue (flute): Katada Kisaburô, taiko (drum): Katada Kisaku, sasara (bamboo whisk): Mochizuki Taijirô
22. Aki no irokusa
uta: Yoshizumi Kotôji, shamisen: Kineya Rokuji, Kineya Rokushirô
23. Ayatsuri sanbasô
uta: Fujita Shinzô, shamisen: Matsushima Jusaburô, Kashiwa Senzaemon, fue: Katada Kisaburô, Mochizuki Taigorô, kotsuzumi: Mochizuki Tazaemon, ôtsuzumi: Mochizuki Taijirô, taiko: Katada Kisaku
24. Tsunayakata no dan
uta: Kineya Rokuzaemon, shamisen: Okayasu Kisaburô, Kineya Rokosuke, fue: Katada Kisaburô, kotsuzumi: Mochizuki Tazaemon, ôtsuzumi: Mochizuki Taijirô, taiko: Katada Kisaku


Imai Keishô koto and Yamase Shôin shamisen
play Shin-sarashi


CD
$15.50