| | |
| --- | --- |
| | Shakuhachi Web Sites |
---

Michael Kanner lives Santa Cruz, CA. He and I go back to the early days of shakuhachi in the '70's. He has taught children to make bamboo flutes for many years.
Definitely contact Michael and have him come to you kid's school. He can be reached at 831-227-8394 or at [email protected]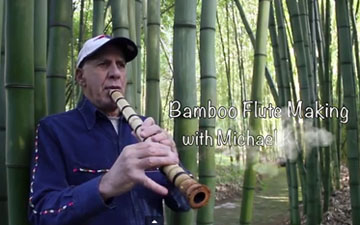 Check out Michael's YouTube video.
---

Shawnee Schroeder crafts Chiku-Shin shakuhachi. He's an up-and-coming young maker in Los Angeles who does very nice work.
He has visited my workshop a couple of times. I've provided him with cured madaké bamboo over the years to help support his work with shakuhachi. Definitely check out his web site.
---
Ginetsu Nakamura is a great shakuhachi maker and my madaké bamboo sensei.
Ken LaCosse is a friend and colleague who makes fine Mu-Jitsu shakuhachi.
Alcvin Ryuzen Ramos is a shakuhachi player, maker, and teacher living and working in Canada. Al gives lessons and conducts shakuhachi pilgrimmages to Japan.
The Shakuhachi Society of British Columbia is Canada's First Shakuhachi Center established by Alcvin Ramos. The SSBC is dedicated to the development of sound mind and body, healthy living, and community through the spirit of shakuhachi.
Shakuhachi Yuu. Distributed by Neil Cohen of Naljor Creations. A popular, low-cost shakuhachi made out of ABS plastic. This flute is very affordable and will not crack.
Comes in 1.8' (Key of D) Standard, Enhanced and 7-Hole models.
Mr. Crane's Bamboo Flute Classroom. Explores alll types of Japanese bamboo flutes.
---
---

Tai Hei Shakuhachi Homepage


Main Menu