Katsuya Yokoyama
Teruo Furuya
Kazushi Matama
Kaoru Kakizakai

---

KATSUYA YOKOYAMA
PLAYS
RANDO FUKUDA:
Excellent Pieces
for
Shakuhachi

---

DVD & Sheet Music
Kinko-ryu & 5-Line Staff Notation


Produced in Japan, this special 20th Anniversary reissue of the compositions of famed composer Fukuda Rando features the late Katsuya Yokoyama along with the three most senior members of Kokusai Shakuhachi Kenshukan, Teruo Furuya, Kasushi Matama and Kaoru Kakizakai. Originally released as a VCR in 1991, this new DVD allows us of to see and hear Yokoyama-sensei perform in the prime of his life in ensemble with his most devoted followers. Koto and jushichigen selections performed by Michiko Onari and Taeko Kamijyo.
56 min. 6 sec. V-32
Recorded in NTSC quality video standard, this DVDs is Region Free, so playable on devices worldwide.
Video Previews
Screen Shots
KATSUYA YOKOYAMA is one of the great shakuhachi masters of his generation. He was born in Shizuoka Prefecture in 1934 and studied Kinko-ryu and Azuma styles of music with his father, Rampo Yokoyama, and grandfather, Koson Yokoyama. At the age of 25, Yokoyama began to study with Fukuda Rando, founder of the Azuma School and with Watazumido-doso, a legendary Fuke master who sought to synthesize shakuhachi music and spirituality within the context of Zen Buddhism. Guided by these two eminent masters, Yokoyama was able to combine the modernism of Rando with the deeply religious traditional spirit of Watazumido in his training. With this foundation, he came to develop a remarkably powerful and creative style that embodied both ends of the continuum. A true descendant of the Kinko tradition transmitted down through the generations, he also pioneered a revolution in modern music that swept across post-War Japan. In 1960, Yokoyama completed his studies at the NHK Japanese Traditional Music Training Center and, one year later, formed Shakuhachi San-Jyuso-dan, a trio devoted to furthering new music for the instrument. In 1963, he founded the Nihon Ongaku Shudan (Japanese Music Group) and Shakuhachi Sanbon-kai (Group of Three Shakuhachi ) with Kinko master Aoki Reibo and Tozan master Hozan Yamamoto. This historic group helped to establish a new genre of music for shakuhachi trio. In 1967, Yokoyama was selected by the renowned composer Toru Takemitsu to perform the premiere of November Steps, his modern composition for shakuhachi, biwa and orchestra led by Seiji Ozawa and the New York Philharmonic. Since its opening over thirty five years ago, Yokoyama has performed this epic piece hundreds of times around the world.
Katsuya Yokoyama was head of the Chikushin-kai Shakuhachi Guild until his passing in 2010. He has been the recipient of many prestigious awards, amongst them the Geijutsu Sen-sho (Art Award) in 1971, the Geijutsu-sai Yushu-sho (Art Excellence Award) in 1972, the Geijutsu-sai Tai-sho (Art Festival Grand Prize) in 1973 given by the Agency for Cultural Affairs and the Ongaku no Tomo-sha Award in 1991. In 1988, Yokoyama founded the Kokusai Shakuhachi Kenshu Center (International Shakuhachi Training Center) located in Bisei-cho, Okayama, Japan where he hosted the first International Shakuhachi Festival in 1993. This event precipitated founding of the World Shakuhachi Society and Festival held in Boulder, Colorado in 1998. At this gathering, five of the world's greatest shakuhachi masters, including Yokoyama, performed in a single venue for the first time ever. In 2002, the Japanese government honored Katsuya Yokoyama for a lifetime of achievement by awarding him the esteemed Shiju Hosho (Purple Ribbon Medal) award.
TERUO FURUYA began studies of the shakuhachi under Katsuya Yokoyama at age 18. In 1971, he graduated from Tokyo Gakugei University and the NHK Traditional Music Conservatory. At that time, he also made his debut on NHK television. He regularly holds his own recitals and makes numerous guest appearances in various concerts. He has appeared in several of Yokoyama's recordings and has made his own set of shakuhachi practice videos and two CDs. He teaches at the NHK Culture Center and Gakugei University and has succeed Yokoyama as head of the Kokusai Shakuhachi Kenshu Kan.
KASUSHI MATAMA started playing Shakuhachi at the age 17. After graduating from Hosei University with a degree in History, he began studying shakuhachi seriously with Yokoyama Katsuya for over the last 30 years. In 1972-73 he successfully passed the NHK audition and graduated from the NHK Special School of Traditional Japanese Music. Since then Matama has participated in several international tours to Europe, South America, Asia, Australia, and the U.S. with Yokoyama and other top Japanese musical groups. He served as one of executive members of the ground-breaking "International Shakuhachi Music Festival in Bisei" in 1994 both as a planner, manager, as well as a player. In 1999 and 2000 he also helped establish the "Australian Shakuhachi Music Festival in Sydney and Brisbane". Matama is currently director of "Ramposha-Chikushin Kai". In addition, he is a lecturer for the International Shakuhachi Research Center and executive director of the Yokohama Chikushin Kai.
KAORU KAKIZAKAI studied shakuhachi with Seido Saito and later with Yokoyama Katsuya. He graduated from the NHK Traditional Music Conservatory and is the winner of the prestigious Kumamoto All Japan Hogaku competition. He has recorded with Yokoyama sensei on his CDs and videos and is a popular leader of shakuhachi workshops for the International Shakuhachi Training Center in Tokyo. Currently he is research fellow at the Tokyo College of Music, full time instructor for the International Shakuhachi Kenshukan and NHK Culture Center and President of the International Shakuhachi Kenshukan Chichibu School and Higashi Yamato School.
---
---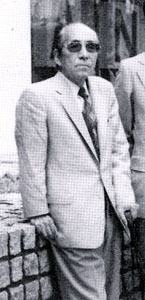 福田 蘭童 / RANDO FUKUDA (1906-1976)
---