Born in Sweden, GUNNAR JINMEI LINDER started to play the shakuhachi when he first came to Japan in 1985. Already in 1986 he was introduced to the Master late Gorô YAMAGUCHI (National Treasure) (1933-1999), at the time head of the "Kinko-ryû Chikumeisha" guild of shakuhachi as well as Professor of shakuhachi at the Traditional Music Conservatory of Tokyo National University of Fine Arts and Music (Tokyo Geidai), and continued to study with him until his death in 1999. In 1998 Mr LINDER received his professional name Jinmei together with his teaching license, shihan, from YAMAGUCHI-sensei.
In 1993, after graduating from Gothenburg University in Sweden with a B.A. in Philosophy and Japanology, Mr. LINDER was granted a scholarship from the Japanese Government as a research student at the Traditional Music Conservatory of Tokyo Geidai, in the field of shakuhachi as performing art. In 1997, as the second non-Japanese ever, he graduated from the post-graduate course with an M.A. in shakuhachi.
Gunnar Jinmei LINDER is one of few non-Japanese musicians performing traditional shakuhachi music in Japan, concentrating on the fundamental shakuhachi solo repertoire, "kinko-ryû honkyoku", and the traditional string ensembles, "sankyoku". He is also working in collaboration with other art forms; among others with the poet Satoru KAWAMURA and dancer Hitomi KATSUKI in creative performances of haiku reading, dance and shakuhachi.
Apart from traditional Japanese music performances, he has also performed with the Swedish Radio Symphony Orchestra (August 1995), Lahti City Symphony Orchestra (March 1996), and the Royal Scottish Chamber Orchestra (February 1997) as shakuhachi soloist.
Mr LINDER was part of the Executive Committee of the "World Shakuhachi Festival 1998" held in Boulder CO, USA, the second ever international shakuhachi festival, and the first to be held outside of Japan. The same year he was invited to perform at the 75th anniversary of the Swedish Association for Song Writers and Composers (STIM), and also made a serie of 4 radio programs with the Swedish National Radio (SR) about Traditional Japanese Music.
S-L5a. WA-DREAM PICTURE [I] CD $18.50
Shakuhachi solo honkyoku and ensemble sankyoku.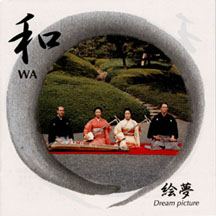 ---