The Complete
Koten Honkyoku
of
Jin Nyodo
神 如道

---

6 CD Set
&
Sheet Music
Jin Nyodo (1891-1966) one of the most famous shakuhachi players in Japanese history and is a direct descendant in the lineage of the Fuke sect. While his interpretation is the Koten Honkyoku is unique and unparalleled, Jin Nyodo's playing reflects directly back to the origins of this ancient music.
---
39 Koten Honkyoku by Jin Nyodo
In 1980 the original 39 Koten Honkyoku by Jin Nyodo was award the "Outstanding Album of the Year" award by Japanese Ministry of Education. Later on, ten more pieces were found and included in this newly-issued set of recordings, published by Jin Nyodo's son, Jin Nyosei.
This 6 CD Set comes with a 128-page book (in Japanese) which includes articles on the following subjects:
Historical background of the Honkyoku.
Essay by Jin Nyosei about his father.
Description and comments related to each Honkyoku piece.
Articles written by shakuhachi scholars.
Impressions of Jin Nyodo's life, character and the uniqueness of his shakuhachi playing.
Jin Nyodo's boxed set of honkyoku music scores using a graphic visual format is now available. This long-awaited 60-piece shakuhachi sheet music series is beautifully calligraphed by Jin Nyodo's own hand.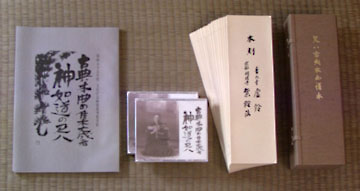 Following is a list of each honkyoku recorded in this set preceded the style of the sect in which each piece is played and followed by the size shakuhachi used on the recording.


CD #1
1
Nezasaha Shirabe
根笹派 調
1.8'
2
Nezasaha Sagariha
根笹派 下り葉
1.8'
3
Nezasaha Sanya Seiran
根笹派 三谷清攬
2.1'
4
Nezasaha Tori Kadotsuke Hachigaeshi
根笹派 通り 門付け 鉢返し
2.3'
5
Nezasaha Nagashi Reibo
根笹派 流し鈴慕
2.3'
6
Nezasaha Matsukaze
根笹派 松風
2.3'
7
Nezasaha Shi Shi
根笹派 獅子
2.3'
Added 1
Nezasaha Sanya Seiran
根笹派 三谷清攬 
2.0' (Added)
CD #2
8
Nezasaha Shirabe Koku
根笹派 調 虚空
2.3'
9
Nezasaha Shirabe Sagariha (Urachoshi)
根笹派 調 下り葉(裏調子)
2.1'
10
Nezasaha Matsukaze (Urachoshi)
根笹派 松風(裏調子)
2.0'
11
Jin Nyodo Shokyoku Daiwagaku
神如道生曲 大和楽
1.8'
12
Ikkan Ryu Ikkan Ryu Rokudan
一閑流 一閑流六段
1.7'
13
Echigo Myoanji Sanya
越後明暗寺 三谷
2.1'
14
Jin Nyodo Shokyoku Mujushikyoku
神如道生曲 無住心曲
2.3'
Added 2
Nezasaha Nagashi Reibo
根笹派 流し鈴慕
1.9'
Added 3
Nezasaha Matsukaze
根笹派 松風
1.6'
CD #3
15
Renpoken Hi Kyoku Tsuru no Sugomori
蓮芳軒 秘曲 鶴之巣籠
2.1'
16
Futaiten Sanya
布袋軒 三谷
2.1'
17
Futaiken Reibo
布袋軒 鈴慕
2.3'
18
Shoganken Reibo
松巌軒 鈴慕
2.1'
19
Kinko Ryu Banshikicho
琴古流 盤渉調
1.9'
Added 4
Futaiken Reibo
布袋軒
1.9'
CD #4
20
Kinko Ryu Shika no Tone
琴古流 鹿之遠音
1.9'
21
Kinko Ryu Hi Fu Mi Hachigaeshi no Shirabe
琴古流 一二三鉢返し之調
1.8"
22
Kinko Ryu Sanya Sugagaki
琴古流 三谷菅垣
1.8'
23
Rogenji Takiochi
瀧源寺 瀧落
2.1'
24
Fudaiji Tsuru no Sugomori
普大寺 鶴之巣籠
1.8'
Added 5
Kinko Ryu Sokaku Reibo
琴古流 巣鶴鈴慕
1.8'
Added 6
Kinko Ryu Yugure no Kyoku
琴古流 夕暮の曲
1.8
CD #5
25
Fudaiji Koku
普大寺 虚空
2.1'
26
Fudaiji Mukaiji
普大寺 霧海じ
2.0'
27
Fudaiji Choshi
普大寺 調子
1.8'
28
(Sect Unknown) Yobitake Uketake
所伝不詳 呼び竹受け竹
2.5'
29
Fudaiji Kyorei
普大寺 虚鈴
2.8'
30
Kyoto Myoanji Choshi
京都明暗寺 調子
2.7'
31
Kyoto Myoanji Darani
京都明暗寺 陀羅尼
2.5'
32
Kyoto Myoanji Murasaki Reiho
京都明暗寺 紫鈴法
2.2'
Added 7
Nezasaha Shirabe Shi Shi
根笹派 調 獅子
1.9'
Added 8
Jin Nyodo Shokyoku Mujushinkyoku
神如道生曲 無住心曲
2.0'
CD #6
33
Kyoto Myoanji Tsuru no Sugomori
京都明暗寺 鶴之巣籠
2.1'
34
Kokutaiji Horai
国泰寺 蓬莱
1.9'
35
Ichoken Ajikan
一朝軒 阿字観
2.1'
36
Ichoken Sa Shi
一朝軒 薩
1.8'
37
Ichoken Banshiki
一朝軒 盤渉
1.9'
38
Ichoken Azuma no Kyoku
一朝軒 吾妻之曲
1.8'
39
Ichoken Kumoijishi
一朝軒 雲井獅子
1.8'
Added 9
Ichoken Ajikan
一朝軒 阿字観
1.9'
Added 10
(Sect Unknown) Tsuru no Sugomori
初伝寺不明 鶴之巣籠
2.0'
Sheet Music in Set but not Recorded on CD
Kinko Ryu Akita Sugagaki
琴古流 秋田 菅垣
Kinko Ryu Tsuki no Kyoku
琴古流 月の曲
Kinko Ryu Ripoken Chikugo Sashi
琴古流 筑後 薩
Iyo Renbo
伊予 恋慕
Somakusha
蘇莫者
Kinko Ryu Ginryu Koku
琴古流 吟龍 虚空
---
---
Sheet Music Samples
Nezasaha Sanya Seiran
Complete Score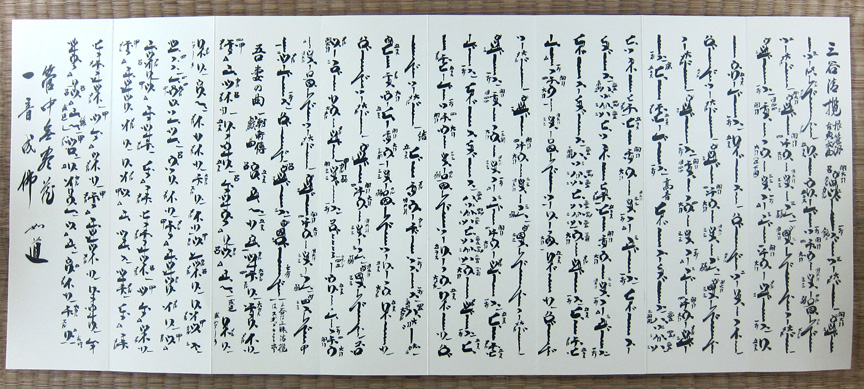 Nezasaha Sanya Seiran
Detail
Kinko Ryu Shika no Tone
Complete Score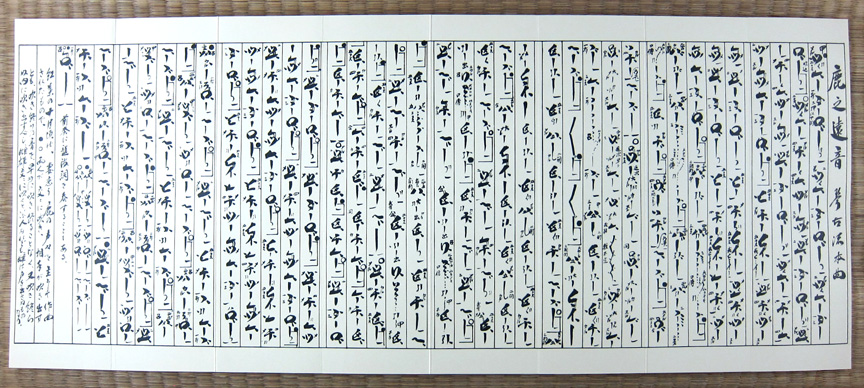 Kinko Ryu Shika no Tone
Detail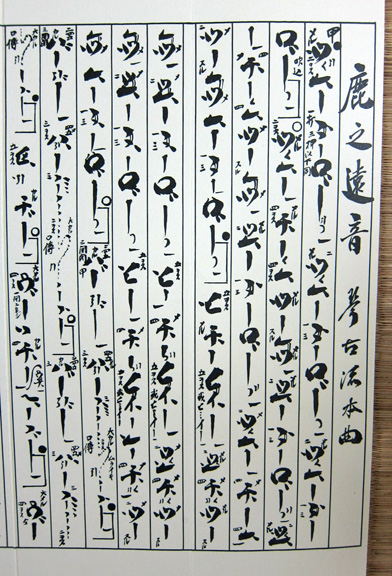 ---
Ordering Information / Price of 6 CD Set , Book & Sheet Music:
---
Monty H. Levenson, P.O. Box 294, Willits, CA 95490 USA
[email protected] www.shakuhachi.com