BOB SEIGETSU AVSTREIH received his certification name Seigetsu ("Peaceful Moon") from Ronnie Nyogetsu Seldin after studying with Kurahashi Sensei in 1986. He has been playing only the music of the Meian and Neza-Sa-Ha traditions for over 25 years, though in the last few years he has also enjoyed participating in Blues, African and Latin jam sessions. He is currently a storyteller/musician,traveling the West.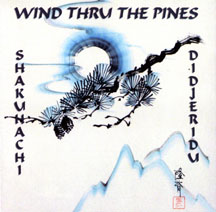 S-A5a. WIND THRU THE PINES with Rai Singh CD $15.00
Shakuhachi & didgeridu. Improvisations based on Meian and Neza-Sa-Ha repertoire honkyoku. Rai Singh plays didjeridu on this album made of southwest yucca.
CD
$15.00
S-A5b. SUI-ZEN SHAKUHACHI - VOL 2
Honkyoku.
(Cassette Tape)
$10.50
---
Monty H. Levenson, P.O. Box 294, Willits, CA 95490 USA
[email protected] www.shakuhachi.com