\\\

Lyon Leifer

HOW TO PLAY THE BANSURI:
A Manual for Self-Instruction
based on the Teaching of Devendra Murdeshwar
"You have given good information about the bansuri and in my opinion this book should be a boon to a
student who takes up flute sincerely and seriously."
- Devendra Murdeshwar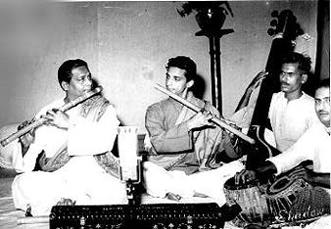 left to right: Pannalal Ghosh, Devendra Murdeshwar, unknown tabla player and tambura player, ca. 1955".
(photocourtesy of Mr. Lyon Leifer)
A new book designed to offer a comprehensive beginning course in the technique of the north Indian keyless bamboo flute. Profusely illustrated with charts, exercises, photographs of playing positions, and decorative material, the manual will enable the student to learn authentic raga materials and methods of development, as taught by the master flutist and flutemaker, Shri Devendra Murdeshwar. The manual
explains fundamentals of a number of essential topics in Hindustani music. The scalar system, the concept of raga, microtonalism, the system of teaching and learning, and the instrument's history are all covered.
Students of the bansuri will, of course, find this book particularly useful. In addition, this manual will prove helpful to all flutists seeking to broaden their viewpoint and range of expression. Other students of Indian music may also find its viewpoint and method for teaching the music's performance highly useful.
Jazz musicians will find in it an especially useful compendium of scales and scale patterns which can be put to use in various contexts.
Chapters include information on the following subjects:
An Introduction to the bansuri.
Myth and history of the bansuri and biographical information on prominent players and teachers.
Holding and learning to play scales.
Learning to play a raga.
Learning a composition in Raga Yemen.
The ten scales of Hindustani music along with fingerings.
Bansuris in various keys.
Producing microtones.
Appendices include a glossary of terms, bibliography, schools, sources of instruments and recordings.
The available CD presents examples of all the major exercises and performed versions of all the compositions included here, as well as providing drone tambura and tabla accompaniment for the student's own practice. 74 pages. PG-13
---
About the Author
Lyon Leifer is recognized in Europe, the Americas, China and India as a master flutist who performs both on western flutes and on the bansuri. After early studies in Chicago with Emil Eck and Walfrid Kujala, Mr. Leifer attended the Juilliard School of Music where he studied with Julius Baker. After graduating, he became a member of the St. Louis Symphony Orchestra. Pursuing an interest in improvised raga music and flute playing in India, he then accepted a Fulbright Grant to study there with Devendra Murdeshwar, the inheritor of the legacy of the great Pannalal Ghosh. Remaining in India for five years, Mr. Leifer won the praise of Indian audiences and critics for his authentic renditions of raga melodies.

Since returning to Chicago, Mr. Leifer has become one of the city's leading flutists and flute teachers. He gives recitals on Western flutes, both period and modern, and performs as principal flutist in Ars Viva Orchestra. He was for twenty-seven years also principal flutist of the group Music of the Baroque, where he was often featured soloist in that ensemble's concerts and syndicated broadcasts.

Lyon Lieferhas won numerous awards including scholarships at Juilliard, a renewed and extended Fulbright Student Grant, a senior fellowship of the American Institute of Indian Studies, grants from the Illinois Arts Council and Chicago Artists Abroad, and the 2005-06 Fulbright Senior Research Fellowship. During his most recent Fulbright sojourn, he performed multiple recitals in Mumbai as well as performing at Kolkata, Pune, and Bhopal.

Mr. Leifer has also offered master classes in venues including Shanghai, Ho Chi Minh City, Hanoi, Istanbul, Caracas, and Barbados.
---
Bansuri Sizes
Bansuris are made and played in sizes ranging from sub-piccolo all the way to mega-alto flute equivalents. Usually, concert instruments play a tonic note (which is taken with three finger holes covered) at around D-sharp or E-natural. A flute with an E-natural tonic is a whole-step higher than an orchestral alto flute.Because the bansuri is a keyless instrument, playing a large one does require a substantial amount of practice to attain the proper grip and stretch out the hands to play with good control. Invariably, players begin on smaller, higher instruments and gradually work their way down (up?) to the concert-size.The instrument recommended for How to Play the Bansuri is pitched at a tonic of C-natural (sounding on the third space of the treble clef). This is a very conservative choice and a comfortable size for any player, even a child aged ten to twelve. Any size of bansuri may be used to work through the material of the book. However, the C-natural instrument will work best because the examples on the accompanying tape are played on this size instrument. Therefore the student with a C-natural instrument will be able to avoid a possibly disconcerting mismatch of pitch. Additionally, since some of the exercises are provided in staff notation, these will sound at pitch when played on this instrument.Six or Seven Holes?The book is based on the method developed by Pannalal Ghosh which utilizes the bansuri with seven finger holes exclusively. While a six-hole instrument can be used to play the material, the results will not be as satisfactory, due to the inherent limitations of that instrument. The seventh fingering hole enables minimally an extra half-step of range, but it also creates many more possibilities of fingerings on various notes, particularly in negotiating register breaks in both directions.
---
---
---

Playing Guides Menu

Tai Hei Shakuhachi Homepage


Main Menu