Devendra Murdeshwar: An Appreciation
by Lyon Leifer
My Guru, Devendra Murdeshwar, was kind enough to accept me as his student in 1965, when I first went to India on a Fulbright Grant. The principal disciple and son-in-law of Pannalal Ghosh, Murdeshwarji creatively developed Mr. Ghosh's approach to bansuri and to raga music, adding still another facet to the many splendors of the Allaudin Khan gharana. He upheld the highest standards of musicianship and virtuosity, adding compositions of his own to the repertory and adapting a number of vocal compositions not previously played on bansuri. He had an illustrious career as performer, flutemaker, teacher, adjudicator, broadcaster, and producer of classical music at All India Radio (the national governmental radio service). He toured the United States, Canada, the former Soviet Union and the former East Germany and won acclaim for his brilliant performances, some of which have been issued on the HMV and Nonesuch and Rasa Music labels.
Murdeshwarji thinks nothing of playing solo recitals that consist of three solid hours of music, keeping audiences in their seats throughout. Few living flutists in any music culture can make that claim.
I am extremely indebted to him. Most of the Indian music I know, I learned directly from him. Whatever else I learned was basically because, with him as my Guru, I have been afforded entry into the homes and studios of many a prominent musician who also shared knowledge with me freely.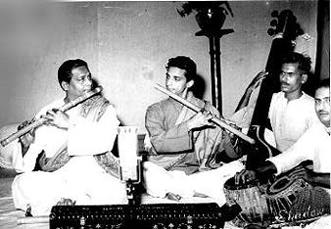 left to right: Pannalal Ghosh, Devendra Murdeshwar, unknown tabla player and tambura player, ca. 1955".
(photocourtesy of Mr. Lyon Leifer)
Murdeshwarji is the finest maker of bansuris on the planet! Pannalal Ghosh played on instruments made by him. All the best bansuris I play on were made by him. His instruments are marvels of workmanship, intonation, response and coloration and feel. No other maker has come even close to matching their quality. Furthermore, he has brought innovation to bansuri-making, adapting a number of ideas from Boehm's and other Westerner's work, showing immense interest in every possibility of further enhancing the capabilities of this deceptively simple-looking instrument.
Devendra Murdeshwar is a great teacher. He concerns himself with the entire individual, insisting only that the student commit passionately to the work of learning. Regarding my experience in India, I can only say that my Guru made me feel like a part of his family, helped me immensely in my own "discovery of India," opened doors for me in the music world and made me feel at home in every possible way. My Guru's wife, Sudha, who unfortunately passed away at a very early age, was also extremely kind to me. Her unfailing good cheer and devotion to music, which she knew extremely well, are an inextinguishable part of her memory to all who knew her.
Devendra Murdeshwar's teaching methods are demanding, effective and designed to promotethe development of creative musicians. Guruji always encourages the student to find his or her own way in the music, refusing to allow the student to simply memorize passages, long or short. Instead, he continues to provide inspired examples of each type of playing, and encourages one to catch on through practicing hard and "taxing the brain" (as he likes to say). So one must strive to remember in practice at home what he has shown in the lesson. In this method, if you can't remember exactly what you have been shown, you must try to create something as close as possible to what you remember. This forces you to grasp the "structuring principle" of the different types of improvization you are shown. Another facet of his teaching includes the personal inculcation of music history and theory in the course of expansive informal discussion. The result of all this devoted teaching is that he has produced a number of highly capable and creative players whose recitals also hold the interest of the audience.
Copyright 1996, Lyon Leifer
---
---

Playing Guides Menu

Tai Hei Shakuhachi Homepage


Main Menu