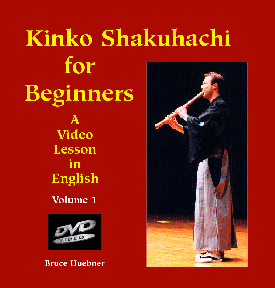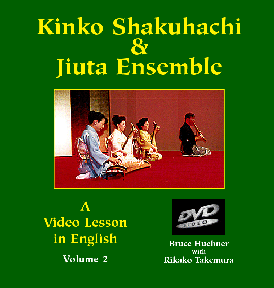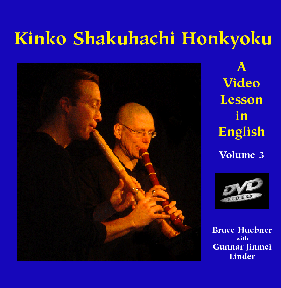 What shakuhachi players, students & teachers say about
Bruce Huebner's shakuhachi teaching videos:
"For centuries, shakuhachi honkyoku solo pieces have been transmitted from teacher to player through verbal, one-on-one contact. Because of this, the honkyoku notation tends to be arcane and contain only a minimal amount of information. For the shakuhachi player, such notation is really no more than a reminder of what should already be learned and internalized. Yet unfortunately many shakuhachi players, both in Japan and abroad, don't have the luxury of spending years under the tutelage of competent teachers in order to master the pieces and must rely on imperfect notation.
"'Kinko Shakuhachi Honkyoku--A Video Lesson,' conceived, directed and performed by shakuhachi experts Bruce Huebner and Gunnar Linder, provides a viable alternative where the student, through the video, can experience something akin to sitting down with a shakuhachi mentor and carefully learning the notation step by step. The video is an enjoyable and effective way to acquire and practice the basics of the Kinko style honkyoku.
"This lesson video leads the student through the entire Kinko honkyoku piece, HI FU MI HACHI GAESHI NO SHIRABE. Each of the two players takes turns to explain, in clear, precise language, the concepts and techniques behind each musical phrase and ornamentation. After the explanation, each section is expertly performed.
"I highly recommend this video as a way to enter into the lofty world of the Kinko style honkyoku, either as beginner, intermediate or advanced player."
- Christopher Yohmei Blasdel, Tokyo
"I bought the second video of your series on Honkyoku and Jiuta ensemble. My wife (a Japanese lady) plays the koto and is a student of the shamisen, while I am a student of the shakuhachi. We greatly enjoy your video and will study it in details because it is extremely instructive, and will be helpful. Congratulations!"
- Bruno Deschenes, Montreal, Canada
"Gunnar brought some video lesson, the one he made with Bruce Huebner. I want to say the high quality of this video. Teaching is remarkable. Every phrase of the piece (Hi Fu Mi Hachigaeshi) is studied in detail, easy to follow, easy to understand, even for beginners. Every Japanese term is explained and appears on the screen which make it very clear. Fingerings are shown slowly, for a convenient practicing. Many of us have bought it and appreciate. I recommend it strongly !"
- Daniel Lifermann Paris, France
---
---
---
---