Blowing Shakuhachi
An Interview with Monty H. Levenson
(This interview appeared in the Fall, 1989 issue of the Kyoto Journal before I made my first visit to Japan. )
---
MONTY LEVENSON: The music I play is called Honkyoku. That means "original music." It is the music that comes out of the Fuke legend and the Kinko tradition. When I blow shakuhachi, I blow with ritual and with posture. And I bow because it puts me in the proper relationship to that tradition and the spirit of that music.

There is something more than tradition, culture and rituals passed down over a long period of time that is going to help us out in the end. My particular interest is in the stuff that underlies or cuts through culture, that connects us all as a species, as human beings.
Many of my feelings come from my experience with my family, especially my father who had a hard life and experienced much suffering. He was sick for ten years and died at the age of 56. Most of his life consisted of hard work and frustration. Toward the end of his life, the last couple of years, he was confined to a bed at home. The tradition he was raised in was very strong around him. We grew up in an conservative Jewish community and were surrounded by Chasidim, a sect of ultra-orthodox Jews. In the end this tradition was useless to my father. It became mere ritual whose deeper meaning and personal relevance had dissipated. What was left of his religion was closer to superstition.
He had a hard time with that loss. I was part of the process of his illness and death and saw very clearly what a void he experienced and how much that affected him. Here was a man, steeped in tradition and the enduring culture of Judaism, who at the end could only deny God and flail out at his circumstance.
There has got to be more to it than those postures that are passed down over time. If they are empty of information they are not going to suffice. If there is no direct correlation to one's personal experience they become a source of torment rather than compassion and help.
You asked me why I blow shakuhachi. I blow shakuhachi instead of flailing. I blow shakuhachi to experience the center. To be close to that place means being close to the meaning. Our own culture here in Mendocino County, California has to do with evolving rituals and traditions that are emerging from real conditions and experience in this place.
I have never been to Japan. My involvement with shakuhachi has occurred without ever having left my home in Willits. It gives me a unique perspective. I am very involved with this tradition, but I come from outside of it completely. All of my work has been done right here on this coastal mountain ridgetop.
HOW DOES THE SHAKUHACHI DIFFER FROM OTHER ANCIENT WIND INSTRUMENTS?
Shakuhachi is a piece of bamboo with five holes in it. The end of the instrument is cut off at an angle which one blows across to produce a sound. Facts about shakuhachi are mixed with legend; nobody knows where one begins and the other leaves off. I believe what is historically filtered down to us through time - whether true or not - is relevant.
Some ethnomusicologists believe that an instrument of this type dates back to ancient Egypt. The shakuhachi was we know it, however, came to Japan from China. The legend that is most popular is that of Fuke, a Chinese zen monk who lived in the 10th century during the time of the T'ang Dynasty. Fuke ran around with a bell he would ring to the accompaniment of a poem. The essence of the poem he recited was that if you encounter somebody who is very bright, smack him on the head. If you encounter somebody who is dull, smack him on the head. In fact, if you encounter anything at all, smack it on the head. And if you encounter emptiness, in particular, be sure to smack it on the head severely!
Fuke was an eccentric to say the least. He was a madman who played a flute, rang a bell and smacked people on the head. Naturally he had a large following.
The shakuhachi came to Japan in the 13th century, brought from China by a monk named Kakushin. But it was much later, during the Tokugawa era of the 17th and 18th centuries when feudal Japan was coming to an end, that the instrument evolved to its present form. As Japan was becoming centralized under a single administrative authority represented by the Shogun, the influence of the once powerful feudal lords was diminished. These daimyo had a very wide following of samurai who were suddenly set free from allegiance to their masters. This change had a tremendous impact on Japanese society. Generations of the same class structure, lifestyle and mode of livelihood - very deep connections - were severely and rapidly disrupted.
Some of these masterless samurai or ronin became what was known as Komuso. They were not quite monks. The komuso were more like pilgrims who wandered through the countryside often involved in the politics and intrigue of the time. This sect of masterless samurai took to blowing shakuhachi and later received the exclusive privilege of using this instrument to solicit alms.
At one point the ronin were forbidden to carry their revered samurai swords. That was one way in which the shogun was able to control a dangerous and potentially threatening class of warriors. Here we return to legend which has it that some of these komuso redesigned the shakuhachi - originally made from a flimsy piece of bamboo - and fashioned it from the root of the bamboo which is a very substantial, thick and heavy part of the plant. In this way the shakuhachi doubled in its use as weapon.
In the hands of the komuso the music of the shakuhachi also blossomed and took a form that survived. This flowering was formalized by a man named Kurosawa Kinko who lived during the 1700's. Kinko traveled all over Japan collecting music which he put together in a repertoire of 36 pieces. This became the first written or notated music for shakuhachi. The piece I played for you - Cho Shi - is the first piece of the Kinko repertoire. The music is still being taught and learned in the form preserved by Kurosawa Kinko.
IT SOUNDS MORE THE MUSIC OF A HILLSIDE THAN A CHAMBER. THE CLOSER YOU GET TO THE INSTRUMENT, THE MORE YOU ARE AWARE OF THE BLOWING, THE SOUND OF THE INSTRUMENT THAT IS NOT THE SOUND OF THE MUSIC.
Many people do not regard the sound of the shakuhachi as music at all. Shakuhachi is different and this difference is one of emphasis which has to do with the context of sound. If you think of music as having a beginning, a middle and an end, a context is established through which the sound moves and develops. In blowing shakuhachi the emphasis is on each individual note and the relationship between the notes. The music has a definite quality of randomness or vagueness.
I played shakuhachi for ten years before I began to study the traditional music. In studying this music it became clear to me that each note and progression of notes becomes a focal point in the blowing. The pauses, little grace notes, and even the spaces between the notes, are elemental in this musical form. A traditional shakuhachi piece can never be played the same way twice. While all aspects of the notation governing pitch, meter and intonation are clearly - often strictly - presented, the way in which the sound is produced and the manner in which the flute is blown is entirely up to the player at the time he is blowing. This built-in "improvisational" aspect of presentation is intentional and relates to the religious origins of the shakuhachi. Fumio Koizumi is quoted as saying that "the sound of the bamboo flute leads the mind directly into spiritual thought. A single note of the shakuhachi can sometimes bring one to the world of Nirvana."
Religious is not quite the right word to describe my own blowing. Koizumi's quote reads to me like an admonition. My efforts may be more directed if somewhat less exalted. It has to do with practice and the focus on movement from one point to another. Of late this practice has required me to put the shakuhachi completely away and listen rather than blow. Like the music that can end suddenly, there is no wind up, no apparent conclusion. Simply a movement between sound and silence.
MUCH WESTERN MUSIC IS MADE TO BE HEARD. THIS MUSIC IS MORE MADE TO BE PLAYED.
Exactly. Shakuhachi is made to be blown. There is no shakuhachi without breath. My interest in blowing comes from my interest in trying to be aware of what is happening when it's happening. It's that simple. The extent that I put energy into shakuhachi is the extent to which I put energy into trying to be awake.
Looking at myself honestly I have to say that most of the time I am not very awake. [laughs] So I find it really helps to practice. Of course, shakuhachi is very much involved with breathing. It is a direct reflection of breath. The sound comes out and goes back in, following breath, and there is important information being conveyed in that process as in some form of biofeedback. For me, that information has become relevant. More so than watching the 11 O'clock News.
WHAT HAS BECOME OF YOU, MONTY? YOU AS CHARACTERISTIC OF A BEVY WITHIN A GENERATION? YOU'VE TAKEN YOUR WESTERN FRAME AND ARE WRAPPING IT AROUND EASTERN RITUALS, DAY AFTER DAY, MONTH AFTER MONTH, AND NOW AN ADULT LIFETIME. . . WHAT KIND OF AMALGAM ENSUES? HOW HAS THIS POSTURE AND THE MUSIC THAT PREOCCUPIES YOU ALTERED YOU, A WESTERN MAN?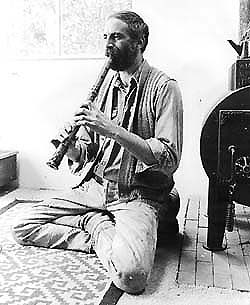 I am still very much a western man. But more than assuming any given posture or presenting certain characterizations, my interest is in learning. If you keep at something long enough, you come to the limit of certain parameters. At that juncture you can either stay where you are or open yourself up to other forms and processes.
I can think of myself sitting here blowing shakuhachi and perhaps there is someone in Kyoto doing the same thing. We are assuming the same posture, but it hardly matters. That posture is no more than a form to still the body, quiet the mind and focus one's attention on breath. It doesn't matter which way you come to it, east or west.
The fact that this person is Japanese and lives in Kyoto while I am an American in the hills outside of Willits is something we can drop away for a moment. Let's forget about where we've come from or where we've been and look at where we are at that moment. Observing things from this perspective may provide us with some useful and very practical information. In seeing our shared relation to the whole we remain unique and distinctive without necessarily being adversarial. Acting on this perception is the first step toward peace.
My involvement with shakuhachi is not motivated by any desire to attach myself to something alien or esoteric. It is more a means to learn who I, in fact, am. And it comes out of a process which is occurring right here in these hills. Call it what you will.
TWENTY YEARS OF HILLSIDE CULTURE HAS EMERGED HERE. NOT TOTALLY AN INTENTIONAL INVENTION. MUCH OF IT IS THE RESULT OF LIVING ON A SLOPE WITHOUT CITY WATER, DETACHED FROM CENTRALIZED POWER.
I have been living on this hill for sixteen years, in Willits since 1970. My coming here started out as one thing and quickly emerged into something else. My experience is similar to that of many others who moved here during that period.
You buy a piece of undeveloped land with nothing on it in the way of amenities. You haul water, use candles and kerosene lamps for light and eventually build a house. I lived in a little shack for a year that was red-tagged by the government a week after I moved in. I moved on the land in October, at the beginning of the rainy season. Friends advised me to wait until Spring, but there was no way that I was going to wait. The large enclosed garden down by the entrance to the place was built between storms. You go right to work, attempting to take care of the basics: keeping yourself warm and fed while trying to get running water into the house.
After a couple of years of hiking around the land I finally began to realize something about the place I was inhabiting and its relationship to the larger ecosystem. I began noticing the tree stumps. Taking you on a tour of these 80 acres I could show you no less than a hundred Douglas fir stumps that are four to five feet in diameter. That took years for me to see. This forest was very different 40-50 years ago prior to the time it was logged. A neighbor living down the road did most of the cutting. He lived here for thirty years and was related by marriage to the original white settlers of String Creek valley. He and I overlapped one year. I moved here just as he moved to town.
That really impressed me. When I started out, I was thinking that this way my land. Having grown up in Brooklyn, I never owned anything. My family worked and struggled all their lives and had nothing to show for it but debts. They never owned much. We lived in a slum neighborhood with a lot of other people who even worse off than ourselves. Everybody was struggling, trying to do the best they could. I never lived in a house until I moved to Willits. Never had a yard with trees or space around it. I never owned a car.
The way things went for me was that suddenly I owned a large area of land in these beautiful coastal foothills on which I was going to make a place to live. My understanding of that process was about to be radically changed in a few short years. I realized that the land I was homesteading had been utterly devastated. "Rape" is a better word to describe what had occurred here. This must have been a magnificent spot. A thriving forest of century-old virgin firs. My house is built on top of what used to be a logging platform. This big flat area was created years ago as part of the timber harvest operation. All of the top soil was removed. You can still find slash everywhere. My driveway is an old skid road. I can show you giant fir trees - five feet in diameter - that were cut and left to rot on the ground.
When I realized what had happened here, it changed my attitude significantly. The process of living here ceased to be strictly a matter fulfilling my dreams - building a house, raising a family. It suddenly became a grave responsibility.
RESPONSIBILITY TO DO WHAT?
I can draw a circle around myself as I can draw one around my family and the other people with whom I now share this land. I can draw a circle around these 80 acres, around my neighbors on String Creek, around Willits and Mendocino County. Within the perimeter of these concentric circles I have certain kinds of responsibility. Now I also have responsibilities outside of these circles as well which I have come to see as increasingly global and cosmic. But basically within the boundary of my land, whatever is going on is my business. I've decided what is going to occur here will be activities and projects that are sustaining. Energy that is going to be good and right, not bad. And I am the person to decide what is good and what is right.
For one thing, there is not going to be a lot of big trees cut down. Which is not to say that I haven't cut down some trees. But anything I do cut down will be part of a greater consideration of value. I am going to be thinking about the big picture which is important in doing things responsibly.
THE BIG QUESTION IN THIS REGION IS HOW DO YOU PUT TOGETHER A LIVELIHOOD THAT WORKS. YOU'VE PIECED TOGETHER A WORLD-WIDE MARKET TO A MICRO-REGIONAL ONE. WAS THAT INTENTIONAL? HOW DID IT END UP BEING SIGNS AND FLUTES?
I had a sign business in this town for sixteen years before going back to making flutes full time. That certainly was not intentional. I am one of those non-serious artist types. It's something I've always done as a gig. "Art-for-money." When I was in college I worked my way through school as a commercial artist in New York. At the university, I studied sociology. I was the only Marxist in the advertising agency.
While back east, I attended graduate school at the New School for Social Research and then at Brandeis University. I was very much involved in the student and anti-war movements and in the civil rights movement since the early days - '63 on. My last year at the university was largely taken up by a nationwide student strike against the war in Vietnam. It was during that time that students at Kent State University in Ohio were killed by the National Guard. I was on the steering committee for that strike which was centered at Brandeis. I was quite a year. Many realizations occurred to me about the world into which I was about to make my way.
In 1970 I was offered a teaching job at California Institute of the Arts which hadn't opened yet. It was the first year of the school's existence. A professor I worked with at Brandeis was hired to set up what he called the School of Critical Studies. He in turn hired several east-coast radicals including Herbert Marcuse, a German social theorist regarded during the 60's as "the Father of the New Left." Marcuse's work was seminal to my own research, so the job offer was a unique opportunity. Cal Arts, however, was funded with money donated by the Disney family which was influential in right-wing California politics at the time. When they discovered what was developing at the school, they fired everyone. Marcuse was fired before he ever got there.
These events changed my mind about moving to Los Angeles. I had friends in Berkeley who had moved up north to a small town called Willits. These friends found a place in the country with a house nearby that I was able to rent for $40 a month. I was living in Boston at the time, never seriously intending to move to northern California or live in this cabin on a permanent basis. When things fell through at Cal Arts it was clear that what I really needed to do was get away from the University for awhile and finish writing my doctoral thesis. I had a grant from the National Science Foundation which was paying me to write Marxism. So I headed out west to Willits with 500 books and the idea of spending part of a year secluded in the woods to write. That was 20 years ago and I'm still here.
It took two month for me to realize that a phase of my life had ended. It came as a total surprise. I remember sitting on the front porch of the cabin realizing that I was never going to finish this thing. I was never going back to the University. I was completely done with the whole process. I had no idea what lay ahead. It felt good to be where I was at.
I was then that I encountered shakuhachi. Almost the same week.
Much of what we did in Willits during the early days was to play music. We acquired some instruments from a West German flutemaker who passed through the area and began to blow shakuhachi. These instruments were very limited. I began to work on shakuhachi with the hope of making a decent instrument to play. I'm still trying.
I WANT YOU TO TALK ABOUT YOUR INNOVATIONS. WHAT ARE THE DETAILS AND DECISIONS YOU'VE MADE IN THE PROCESS OF ADDING TO AN INSTRUMENT THAT IS 4000 YEARS OLD?
Let me go back to Berkeley in the early '70s. There was no money and the rent was coming up. I drove down to Berkeley with several flutes and set up on the sidewalk in front of Cody's Bookstore on Telegraph Avenue. I made $80 that weekend which was very inspiring.
I returned to Willits and set up a workshop in my bedroom. Every few months I'd drive down to the City or attend a local craft fair and usually come home with enough money to pay the rent.
Then I was visited by Dick Mendes, a former professor of mine from Brooklyn College, who turned me on the Whole Earth Catalog. He suggested that I go see these people, which I did. I walked into the Whole Earth Truck Store with several flutes and there was
Brand. Stewart eyed me and said: "Ah, Shakuhachi!" He took one of my flutes and wandered off into a corner. I could hear him huffing and puffing for over half an hour. I was impressed that he not only knew about shakuhachi, but could get a sound out of one immediately. It took me four days to accomplish that feat. Stewart returned and said that he liked the flutes, suggesting that I write a letter to the Catalog immediately as it was going to be printed the following week. So I did. About two months later I had so much response I was back ordered for three months. That went on for six years. I was barely able to keep up with it all.
TELL ME ABOUT YOUR FLUTE - HOW IT DIFFERS, HOW YOU HAVE TRANSFORMED THE STRUCTURE.
During those six years I spent quite a bit of time working with bamboo. There were no books in English. There was nobody around to draw from. I was left to my own devices in an attempt to improve the quality of the instrument. In retrospect, those years where very important to my understanding of what shakuhachi is all about.
My feeling at the time was that I would never be able to make a good instrument. So I never got caught up in aspirations of "mastery." That seemed like a such a remote possibility, it didn't concern or hinder me. Nor did it stop me because it soon became clear that there was a genuine need for shakuhachi in our emerging counterculture. Where that need arose from, I am not sure. Many people were captured by the sound of this simple bamboo flute.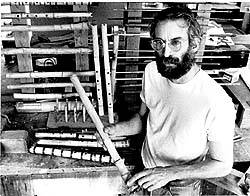 I spent a good deal of time making mediocre flutes. They were out of tune and funky. But they blew the basic stuff and everyone I met loved them. That kept me going. I didn't have much of a notion to make "great" instruments. I didn't know much about what I was doing.
Ten years down the road that became a problem. I had reached a natural limit in what I was able to accomplish by myself. I had improved all aspects of the flute except its most critical one: the basic design of the bore. I began to think that it was time to quit or find some help - which meant going to Japan. Finally, things came to a crisis. I was either going to make shakuhachi or to stay on the land. I couldn't see myself doing both.
I had met an American - Tom Deaver - who had gone to Japan in the early 70s and did a traditional apprenticeship in shakuhachi. Tom has been very helpful and encouraging to me over the years. At that time he suggested that I come to Japan to learn shakuhachi. My coming, he felt, was the only way I was going to do it. I recall feeling that he was correct - that I needed to make a commitment. Soon, however, it became apparent that what I want to do most was to stay on the land. There was no real choice as my work here was far more important. So I did not go to Japan, but kept at making my primitive shakuhachi. I never really stopped.
HOW DID YOU CHANGE THE FLUTE?
Well, here I am ten, twelve years into this process and I am still turning out junk. But everyone loves these simple flutes. A couple of people I made shakuhachi for went on to Japan to study with great masters. And then there are all these folks getting off blowing. That kept me at it.
Doing mostly mail order, I put together a small catalog which eventually became the primary source of access to information on the shakuhachi. The catalog is now 75 pages and is distributed all over the world. A lot of people got turned on to shakuhachi through this catalog. That in itself made my efforts worthwhile, but I still was not making what I considered to be decent flutes. By decent, I mean a flute that someone would be able to use in studying the traditional music. My flutes were simply not good enough for that.
WHAT WAS LACKING?
Precision in the bore. I wasn't making - or unmaking - the inside of the bamboo precisely enough. And after a number of years, I decided that I should either go to Japan or give it up. However, it could not leave Willits for one reason or another. For three more years I put aside all efforts at trying to improve the bore of my instruments. I had been experimenting with different techniques of fabrication which I abandoned assuming that what I needed to do most was get to Japan. There seemed no point in thinking about improving my shakuhachi until I did so.
When it appeared that I was going to make it abroad - that it was finally going to happen - I had the door slammed in my face. [laughs]. But that is a classic story in Japan. The deshi comes to the door and the master slams it in his face saying: "Go back home. Come back next year." That happened to me in a manner of speaking.
And I am utterly grateful for it, because when I realized that I was not going to Japan, I also realized that I did not have to go. I did not, in fact, have to do anything different from what I had been doing all these years here on String Creek in Willits. I went back into the workshop with a very different sense about what I had to do. Within one month I figured out how to make precision bores.
By "precision bores," I mean a bore that is controlled in its diameter to within a few hundredths of a millimeters along the entire length of the flute. The technique I have developed enables me to measure and duplicate the bore of a very fine instrument with extreme accuracy. By casting the interior I am able to make a quality shakuhachi in a fraction of the time and for a fraction of the cost of a traditional instrument.
WHAT IS THE SPECIAL CHALLENGE OF THE FIBER INVOLVED - THE BAMBOO?
To begin with, you cannot find it here at all and it is very difficult to obtain even in Japan. Shakuhachi is made from the root of the bamboo. The culm has to be dug up, cleaned and cured. The entire process is labor intensive. The node placement of the fushi along the length of the plant is very critical as is the shape and external diameter of the bamboo. It is not uncommon for a maker in Japan to purchase a piece of green bamboo for as much as $100.
Shakuhachi are very expensive in Japan. The maker who buys his raw bamboo for $100 sells his finished instruments for as much as two to three thousand dollars. The craft is pretty much ensconced in a guild system. Everybody has secrets. Cooperation extends to keeping the prices of instruments high. If you want to study shakuhachi, you had better be, at least, middle class. Because $400 is required for an adequate practice-grade flute. After a year of study, most people make an investment of about $1500 for an upgraded instrument. If you are serious, you need more than one. There are about different twelve sizes of shakuhachi made. That can get very expensive.
My sense is that shakuhachi is not easily accessible to many people here or in Japan. Part of my commitment is to make flutes that are both high quality and affordable. Most important is the need for people to satisfy a primitive urge to blow, simply blow, shakuhachi. Hopefully my efforts will contribute toward that end.
WHAT IS THIS URGE TO BLOW?
Let me get to that... Since shakuhachi is very expensive in Japan, what I would like to do is establish a middle ground. I want to make really good instruments that are not terribly expensive. I want to make flutes for people, not only professionals.
In Japan, the traditional maker hollows out a piece of bamboo which he lines with tonoko or powdered stone. When the inlaid material hardens it is shaped and carefully measured. Shakuhachi craftsmen are dealing with machinist's tolerances as they fabricate the space around which the flute exists. They are making an empty space to exacting specifications. It is a very difficult process. At a certain point, the surface of the bore is lacquered with urushi, a lacquer made from a plant that is akin to poison oak. It is not uncommon for people who begin playing a new instrument to break out in a severe rash when the lacquer is still volatile.
In fine tuning the shakuhachi, the maker blows the flute to determine pitch and evaluate the overall balance of the instrument. Some notes may be weaker than others. Some may flutter or break off with a certain intensity of breath. Corrections can be made by inserting into the flute a wet piece of newspaper that has been folded into a square. By reducing the diameter at various places along the length of the instrument, evaluations can be made in determining the final bore configuration. This balancing act can go on indefinitely as many variables interact to affect the overall sound of the shakuhachi.
At some point the maker is satisfied that he has done all he can to improve the instrument. He puts a price on the flute, which is usually high because a good deal of time and energy has been expended in its construction. That is how these flutes are made in Japan. What I am doing is achieving a similar result using non-traditional materials in a fraction of the time involved.
WHAT ARE THESE NON-TRADITIONAL MATERIALS?
Plastic! I cast the bore with epoxy resin. Actually, I am making what I call a mandrel first. It is a long, steel column that is turned on a metal lathe to very exacting proportions. I've learned how to measure the inside of a flute very accurately and transfer those calculations to a graph. The graph is then used to determine the profile of the mandrel as it is being turned on the lathe - a long, male image of the inside of the flute. This completed form is placed inside the bamboo as a mold for casting. When the mandrel is removed what is left is a very clean interior surface that resembles the original flute I measured. I then begin adjusting the sound for pitch and intonation by adding or removing material along the bore and around the holes.
This process significantly reduces the time and cost of material in constructing a shakuhachi. In this way I am able to make quality instruments out of what one person described as bamboo "broomhandles." I take that as a compliment as I am able to make shakuhachi for under $200 - under $100 - that may not look as nice but play as well as instruments that sell for seven or eight times the price.
I never made it to Japan, but word of my flutes is circulating there. Just the other day I was visited by John Kaizan Neptune, an American who went to Japan in the early 70s. John is an accomplished musician who studied the traditional music, composes and plays jazz on the shakuhachi. He has also done an exhaustive study of the physical acoustics of the shakuhachi bore. There are very few people in Japan who both make and play shakuhachi with as much proficiency as John. It is not uncommon for people to purchase high quality
instruments which they bring to him to have fine tuned.
I had sent John some of my flutes and he was very impressed in the precision casting technique. He came to my place to check out the procedure firsthand and liked what I was doing very much. We are now working together and selling my instruments to teachers and players in both the USA and Japan.
THE URGE TO BLOW - WHAT IS IT? ANOTHER SACRED URGE?
I don't think of it as any great mystery, but I can only speak for myself. It seems like one has to cultivate an awareness of their immediate surroundings. I feel as if I want to develop the capacity to experience my life as it is unfolding. Meditation is nothing more than that. It is literally a "practice." When I arise from that "alien posture" you talk about, the life I step into, the life I am about to lead is what counts. I am trying to develop skills that are relevant within the context of those concentric circles I referred to earlier. Evolving and sharpening these skills underlies my own urge to blow. I would like to be better at what I do and feel that I am making the correct decisions.
Which gets us back to making shakuhachi. Coming at it the way I did - from outside of the tradition, never having left this place - I didn't always know what I was doing. It was a constant round of mistakes. These mistakes are my teacher. No books, no sensei. Having come through to this point, I have a profound faith in the process. Coming at it from zero knowledge. Really one goes around the zero, not one, two, three, twenty, one hundred. Staying right at the "not sure" place gets one to the attitude of: "I don't really know all about this, but I'm going to give it a try." And suddenly it happens. Learning.
From Suzuki Roshi little book on zazen comes the saying "joshaku shushaku:" mistake upon mistake compounded upon itself. It is a compounding of all your mistakes that is the sum total what you know. You never leave the zero. You never leave the whole. With shakuhachi it is the empty space. Nothing else.
I am really lucky that I am here on my land because there is really no other place for me to be. This is my zero place. And suddenly John Neptune as well as other teachers and players who are very involved with shakuhachi come by to visit and tell me I have something that people in Japan can appreciate and benefit from. What they are talking about is the same zero in the form of a shakuhachi that evolved right out of the hill culture of Mendocino County, California.
YOU NEVER GOT TO JAPAN, BUT YOU BRING INTO YOUR LIFE A WOMAN WHO WAS BORN THERE AND YOU MAKE A FAMILY BALANCED BY HER INFLUENCE. I'D LIKE TO HEAR ABOUT YOUR MARRIAGE.
Let me talk about plastic first...[laughter]. I was making shakuhachi for a few years when I was visited by a fellow called "Shakuhachi Steve" Mindell. He was one of the first Americans to emigrate to Japan and become involved in blowing shakuhachi. Steve lived in Kyoto and studied with the late Kikusui Kofu. Kofu was one of the most highly regarded teachers of the traditional music in Japan. When Steve informed his sensei that he was going to visit the shakuhachi maker in America, Kofu sent along with him a gift for me. It was a shakuhachi made out of PVC plastic pipe inscribed with character Mu and Kofu's signature. I was totally overwhelmed with this present, not knowing what to make of it. Then Steve told me about his teacher. Kofu lived in a little room behind a zen temple. Strapped to the ceiling were numerous lengths of PVC pipe. The whole place was littered with the stuff. This man was a national treasure and spent most of his time making flutes out of plastic water pipe for his students to blow.
Ten years later I was given a record album of Kofu's. It contained the first piece of shakuhachi music I had ever heard. Music that stimulated and inspired me to make these instruments. On the back cover of this album was a photograph of the flutes Kofu played. Two of the three pictured were made of plastic. The first shakuhachi music I had ever heard - it turns out - was played on a plastic flute!
Have you ever read The Forest People, Colin Turnbull's study of the pygmies of the Ituri forest in Africa? Many of the pygmy's sacred rituals revolve around a long, bamboo trumpet called the molimo. During these rites which often go on for days and sleepless nights, the molimo can be heard in the depths of the jungle imitating the voices of wild animals. As the ceremony comes to a climax the sound of the molimo approaches the center of the village and eventually bursts in upon the circle of chanting men, knocking them over, scattering the fire they sit around before returning to the jungle. Only initiated members of the tribe can see the molimo. For women, children and outsiders, it is taboo.
After a number of years living with the pygmies, Turnbull was invited to view the molimo. He was taken on an arduous hike through the jungle and is barely to keep up with his two young guides as they run swiftly through the undergrowth. The journey terminates at a stream where the molimo is traditionally stored for safekeeping. Removed from the flowing water is none other than two sections of iron sewer pipe that the pygmies had ripped off from the European sector of the community. Turnbull is shocked and appalled.
Laughing at his reaction, the two pygmies tell him that the molimo used to be made of bamboo, but that it was too much of a hassle as the instrument would crack all the time. It was constantly being repaired and replaced. When the Europeans showed up, they discovered modern sewer pipe which represented a vast improvement. It was a bit heavy, but it didn't crack and lasted forever. But most important, the sound was right and it is the sound that counts.
This story illustrates an attitude that I've encountered with shakuhachi. There are many people concerned with shakuhachi who care primarily about the sound which the instrument produces. It does not matter what the flute looks like, what it is made of, who made it or where it was made. The right sound is all that is important.
THE CRUX OF THE GAIAN ETHIC IS THAT YOU HAVE TO CARE WHAT OBJECTS ARE MADE OF - WHAT COMES DOWN TO BUILD SOMETHING NEW. TO WHAT EXTENT THE EARTH CAN ACCOMMODATE ANY PRODUCT AS REFUSE. TO HOLD SACRED ONLY ONE ASPECT OF ANYTHING IS TO INVITE RUINATION. THE CULTURE THAT IS EMERGING HERE HAS REVERENCE FOR OLD MATERIALS AND THINGS THAT ARE NATURAL, BECAUSE THERE IS A HISTORY OF THEM NOT HURTING. THERE ARE CERTAIN RESOURCES THAT IF YOU DON'T LIVE IN A PLACE WHERE THEY OCCUR NATURALLY, YOU SHOULD NOT HAVE ACCESS TO. PERHAPS THERE WAS A TIME WHEN WE COULD LEAD LIVES WITH AESTHETIC VALUES BEING PRIMARY. THOSE TIMES ARE NO LONGER. YOU CAN'T JUST USE SOUND AS A CRITERIA.
To my way of thinking, with shakuhachi, the value of the sound is not so much an aesthetic value. The value of the sound is in the information it conveys.
In Japan, the shakuhachi is made from only one species of bamboo - madaké, a giant timber bamboo - that is selected with very stringent criteria for suitability. One of the problems with Japanese flutes that are imported to the United States is that they tend to crack. "Explode" is a better description of what often occurs. Japan is an island, hence very humid. When these instruments arrive here they experience a tremendous inversion. The inside and outside of the bamboo expand at different ratios. The powdered stone used to fabricate the bore has very little bonding capacity as well as its own coefficient of expansion. These flutes usually split right through to the bore rendering the instrument unplayable. That's a serious problem and one of the reason why you seldom find shakuhachi in American music stores. It is too risky to import and too much of an investment to take the chance losing.
My new technique virtually eliminates the possibility of the instrument self-destructing. While the bamboo may crack, I guarantee all of my flutes, for the life of the instrument, from ever cracking through the bore. Epoxy has tremendous bonding properties as well as a superior resonance. And it is very compatible with the bamboo.
I WOULD LIKE YOU TO TALK ABOUT YOUR FAMILY NOW.
You want to hear the whole story? I was all set, finally, to go to Japan, being deep into my midlife crisis. I was ready to get out of here for awhile. My mother tells me that I took my first step at six months old and by nine months I was walking the way I do now. I like to tell people that I didn't start crawling until I was 37. I was ready for a change.
My wife, Kayo, had been in this country for a little over a year with our two kids, Mei and Yukon. They were hers at the time, now they are ours. She left Japan because of the constraints she experienced over there. She lived on a commune for awhile then moved to a town nearby. She made a modest living making futons and sewing. We met at a party in Willits. I had been living alone for twelve years. Kayo moved in a week after we met. There was never any doubt. Eda was born then, a few years later, Anna. We have been together about five years and I am very grateful for Kayo and my family. I am very happy to be with them.
In the beginning, we could barely communicate verbally - which is a really wonderful thing. It is good not to have to talk to your wife sometimes, but just be there. There was a lot of space. A lot of quiet and a lot of non-verbal communication. More than that, there was an understanding - which is really our vow to each other - that it is all happening right now and not much else is happening. That is our understanding with each other and we try to keep it current.
Kayo comes from one of the most rural parts of Japan in Shikoku which is the smallest of the main islands. The village she grew up in calls itself "Tibet-in-Shikoku" because it is up in the hills and remote. Her parents are farmers who grow green plums, shitake mushrooms and citrus. They also have woodland on which they grow cedar. My father-in-law is a logger who grows and cultivates his trees from scratch.
Kayo brought with her a real feeling for the land and for nature. Our place here is somewhat reminiscent of her home. We have a garden right next to the house. In the wintertime she can make an entire meal out of what is simply at hand.
We have been sending our kids to Japan during the summers. They stay with their grandparents and go to the local elementary school. This school has been attended by Kayo's family back to the days of her grandmother. It is very small with only 24 children grades one through six. It is a treat for them to have Mei and Yukon, who grew up in this village as part of the school, coming back from America with all their new experiences to share.
We have a good and sustaining relationship with the school, with the village and with our family in Japan. We have a genuine connection over there.
YOU WERE TALKING ABOUT YOUR RESPONSIBILITIES TO YOUR LAND. NOT TO CUT TREES WITHOUT JUSTIFIED USE, THE IMPACT OF YOUR LIFE ON A PATCH OF WILDERNESS. WHAT OTHER RESPONSIBILITIES DO YOU FEEL?
It is analogous to shaping a shakuhachi bore and dealing with a variety of variables that you try to balance into a workable form. An ideal type exists in which all of these variables are balanced to produce a perfect sound. Of course, nobody can achieve this standard completely. It is the same with homesteading a piece of land. Basically, you do the best you can with the resources available. The success of your endeavor is underlaid by the values and attitude that motivates your energy.
In our case, we live and work on our land. Our youngest children were born at home. My daughter will be going to a one-room school in a log cabin built in the 1880s. It is located at the end of the dirt road on which we live. We grow as much of our own food as possible, which is never enough. We are taking an awful lot from the land. That is understood. The land is supporting us in a very traditional manner. In many ways, it probably wasn't much different from the ways folks lived a hundred years ago. The impact you have while juggling those variables and making the changes on the place itself is what I am talking about. That is where the responsibility lies.
Working toward self-sufficiency and independence on a small homestead involves making lots of decisions which have lasting effects on the land. The rewards in turn are great. My own home was built largely from salvage as is much of the alternative energy system that I put together. My home power system is charged by solar panels and a homemade hydroelectric generator designed and built by a friend that rivals some of the best in the world. We pump all of our water with this system which also runs 95% of my workshop. All of my shakuhachi are made with alternative energy which is something I feel very good about.
Cutting trees or alter the streams to accommodate alternative energy projects - yes - those are individual instances, but the real responsibility is to tune in and get the information that is emanating from all that surrounds you. Here we get back to blowing shakuhachi or sitting zazen. It is opening yourself up to the information at hand, waking up and able to be there with it so you can get it.
I don't read the newspapers anymore. I have even gave up the Willits News. There is no information in these sources that is helping out. My time is better spent going for a walk down the creek.
What we are talking about, really, is one's relationship to place and space: the space you occupy and its impact on the place you inhabit. My family's experience had a strong effect on me in this regard. My grandparents came to this country in 1907. They were emigres from persecution in Eastern Europe. Landing on Ellis Island, they made it across the East River to Brooklyn where they rented a six-room apartment for thirty eight years. I grew up in their home and was part of a large extended family that encompassed an entire neighborhood. My perspective on this place is interesting. It was at best a slum throughout the entire era my family lived there. Different ethnic minorities filtered through as they made their way along the upward mobile ladder. These groups moved from one neighborhood to the next. My family was the first to arrive and the last to leave... [laughs]. I suspect it is going to be the same thing here in Willits.
When I was very young I lived in a thriving ethnic community. It was a good neighborhood. My grandparents had friends and neighbors who came to America from the same town in Eastern Europe. My mother never had to worry about me because someone was always watching.
As I got older the neighborhood changed drastically. The older folks died and their children moved to better jobs and safer neighborhoods. My family remained as Black and Puerto Rican families moved in. At the high school I attended, white students were in a minority - if you consider Puerto Ricans non-white and in New York they are. Out of a high school of 3000, a handful of us went to college. For most of the people in this neighborhood, English was not the language spoken at home. This was true of my family as well.
I saw this place change from a vantage point few people have had the opportunity to see. I caught the tail end of one era and the beginning of the next which included gang warfare, hard drugs and an incredible amount of poverty. I am amazed how hard working most poor people are and how little credit they are given.
I went back to visit the old neighborhood after having lived in Willits for a number of years and was taken totally by surprise. Nobody was living on our block any longer. The entire side of the street that I had lived on was vacated. This had happened to square miles of New York City where people had abandoned entire residential areas that have become uninhabitable. The whole neighborhood had a bombed out appearance. The house I lived in was empty. I went up to the apartment and went to my old room where I removed the door knob. It's now part of my house in Willits.
Places change and sometimes they change so radically that people cannot live in them anymore. Many of the changes some people here would like to see are going to result in the same scenario. I am talking about a proposed wood burning power plant to be located in downtown Willits and a freeway by-pass cutting through our beautiful valley. I am talking about how some people are working to rezone this community so we can have six Circle K convenience stores instead of the two that we never really needed.
Many of the new settlers to this area have had an experience of place that is similar to my own: seeing rampant development end up as devastation and decay. That experience underlies our determination to prevent the future of Mendocino County and our entire bioregion from following a predictable course.
I think it is time to examine all this "good old boy" stuff when it is used as the basis for important community decisions. I am not sure how "good" these folks are. Our local logging dynasty in Willits realizes that the forests will not go on forever when they are treated, essentially, as a source of profit. That is why these people are trying to get out of the lumber business and divest their assets into more lucrative forms, like producing and selling electrical power. In that way they can continue cutting all the trees, hardwoods included, which is all they seem to know how to do. They are not producing jobs or well being in this community. They are producing income and power for themselves in an effort to maintain their own class position.
I believe that an understanding of social and economic class is very important to our understanding of how thing work. People's lives are affected adversely on every level of society. There are structural issues at the core of these personal problems we encounter. Class is one perspective that is incredibly glossed over in this country.
SO IT'S NOT JUST AN EMERGING CULTURE HERE, IS IT? IT'S ALSO AN EMERGING CLASS.
Very much so. It is extremely important to distinguish who we are and what we are doing from that which is occurring in the main drift of society. I avoid using the terms "we" and "us" when talking about the United States of America. I`d rather talk about what I am involved in as an individual or in cooperation with my friends. My understanding of class makes me feel closer to ordinary people throughout the world than to my own government and its corporate owners.
As a class - both local and global - or as individuals sincerely concerned with the fate of the earth, we need to take into account all of the developments that are occurring around us. We need to inform ourselves and act from a conscious state which means eliminating some illusions so we can establish a foundation and move toward a positive vision of the future. One that can support us for a long, long time right here on this planet.
I agree with Gary Snyder. We have to start thinking a thousand years ahead. We must begin doing that if we are going to remain in our place. Otherwise, it is going to become like the old neighborhood in Brooklyn.
WHAT DO YOU THINK IS THE MEANING OF THAT ORIGINAL LEGEND WHERE EVERYTHING FUKE ENCOUNTERED HE HIT?
I'm not sure. That is what I am trying to find out. In some way, when I blow shakuhachi I am doing that with each note.
This interview first appeared in the NEW SETTLER INTERVIEW, an alternative bioregional magazine covering the emerging rural culture of northwest California and sourthern Oregon. It is written in the words of those people who are creating that culture. For more information and subscriptions, contact Beth Bosk, New Settler Interview, P.O. Box 702 Mendocino CA. 95460.
---
Reprinted from
Kyoto Journal
(Fall, 1989 )
The KYOTO JOURNAL is a quarterly magazine of Japanese and international culture.
For subscription information contact John Einarsen, Kyoto Journal, 35, Minami Goshomachi Okazaki, Sakyo-ku Kyoto Japan 606, Tel.: 01181-075-771-6111.
https://kyotojournal.org
---

Table of Contents - Articles

Tai Hei Shakuhachi Flute Homepage


Shakuhachi Main Menu