VINTAGE
FLUTES
FROM PVC
Make great flutes with minimal workshop and entry level skills. Here is a comprehensive and detailed approach to making simple flutes from PVC plumbing products and other readily available materials.
The focus is on hand methods where a complete workshop is not available to the builder. The book helps the beginner in the craft set up the minimum workshop. It then takes her or him through all the steps necessary to complete a project, including key making. Besides a host of techniques, the many plans enable the enthusiast to progress from a simple one-section flute to multi-keyed flutes in two or three sections.
In addition, there is reference material and instruction that enable the reader to design and build flutes with many features not covered in the plans, including flutes of different sizes. The author provides both photos and clear, three-dimensional illustrations to demonstrate the techniques. These computer-generated drawings derive from actual models proven out in the author's workshop.
Intermingled with the technical presentation, there is a tutorial on how to play the flutes created by the enthusiast. This includes fingering charts and sample tunes. Spiral bound with durable clear plastic covers to lay flat and withstand workshop wear and tear.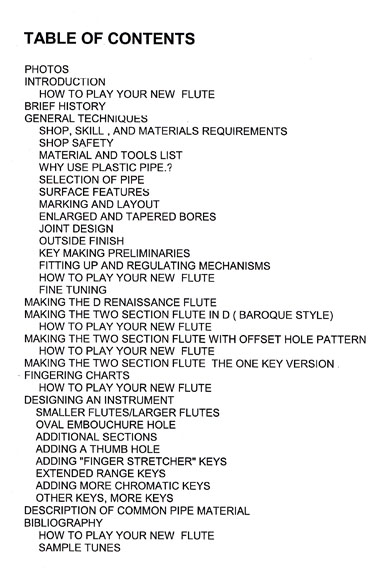 39 pages. CM-27
---
---

Craft Manual Menu

Tai Hei Shakuhachi Homepage


Main Menu