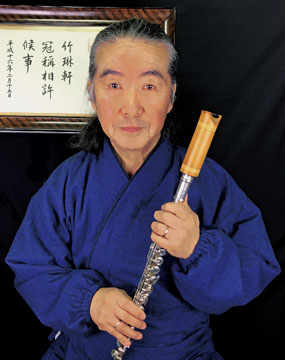 KOZAN TANIFUJI was born in Abashiri, Hokkaido, Japan in 1945. In 1974, at the age of 29, he began studying Tozan-ryu shakuhachi under Kozan Takayama, and later under Ginzan Suzuki. In 1991, he achieved the rank of Daishihan (Grandmaster). On February 14, 2004, he was awarded the title of shin-Tozan-ryu Chikurinken, the highest possible rank in the world of shakuhachi.
Mr. Tanifuji belongs to a number of hogaku groups and performs many styles of music including honkyoku, shinkyoku, jiuta, and modern hogaku. For 19 years, starting in 1977, he instructed a junior high school wind ensemble. In 1988, with the ensemble, he performed "Figuration for Shakuhachi and Brass", composed and conducted by Kushida Tetsunosuke of Kyoto. Soon thereafter, he joined Mr. Kushida in performances of "Dokan" and "Nichiren", composed by Miyagi Michio, at the Kitami Art and Culture Hall in Hokkaido.
2001-2019 Mr. Tanifuji established and led the Engaru Junior High School Hogaku Club. This musical group was unique in all of Japan, incorporating shakuhachi, shamisen, koto, and jushinchigen played by young musicians. Kozan's tireless dedication educating and nurturing the next generation of traditional Japanese musicians put the small town of Engaru on the hogaku map.
Mr. Tanifuji has played the Western-style Boehm flute since 1961. In March of 2003, he began working with the shakuhachi headjoint for silver flute devised by Monty Levenson. Kozan wanted to have such an instrument for a long time. He gave it the name Shakulute.
Since 2009, annual "Shakulute Gatherings" have been held in many places throughout Japan, including Tokyo, Sapporo, Hakodate, Nagoya, Kitami, Asahikawa (twice), and Engaru (twice).