Just returned from two weeks in Japan where I had pretty good success harvesting bamboo for shakuhachi. Prior to my departure, I was not at all certain how things would work out. I only had a couple of leads and knew from past experience that the entire project boiled down to two things: an act of faith and a whole lot of leg work. Finding madaké suitable for shakuhachi is no simple task.

Madake Bamboo in Japan
The three major species of bamboo in Japan are moso, hotchiku and madaké, the latter representing only about 20% of the resource. Even if madaké can be located, it has to meet rigid specifications dictated by the traditional aesthetic for shakuhachi. As madaké is a giant timber bamboo, most of the plants found will be too large in diameter for flutemaking. Groves of madaké go through a 60 year cycle. Only very young or very old groves or those growing in poor soil will yield culms suitable for shakuhachi. In addition, permission to cut must be secured from the owner of the property on which the grove is located. This is perhaps the most formidable obstacle to harvesting bamboo in Japan as very little, if any, open land exists, other than along riparian ways and river banks. This bamboo, growing too close to an abundant supply of water, is not suitable for making shakuhachi.

Bamboo Brokers
Very few of the makers in Japan harvest their own stock. Most flute craftsmen are based in urban areas and obtain madaké from brokers and middlemen going between the property owners and the makers. I had the opportunity to meet with a couple of bamboo brokers and got a sense of what was involved in harvesting. processing and preparing the bamboo for curing. The task of locating, digging and cleaning the roots, removing the oil from and sterilizing the bamboo to protect it from insect infestation is, indeed, labor intensive. The price of brokered high-quality madaké bamboo ranges from about $100 to $200 per piece with a minimum order of 50 to 100 pieces and no chance for the maker to pick through or select the stock. Bamboo brokers pretty much define the market for this precious resource.
Ginetsu Nakamura

With all this in mind, my wife Kayo and I made our way to Japan, stopping first in Ibaraki near Osaka. For some time now I have obtained madaké and become good friends with Ginetsu Nakamura, a shakuhachi maker for over 35 years. Nakamura-san is unique in that he is one of the last makers in Japan to harvest all of his own bamboo. In all his time as a flute maker, he has missed only one season of harvesting last year, due to a accident in which his hand was injured. This season, Nakamura, his son Daigo and an associate, were back at it and invited me to come to Japan and participate in the process. "If you are serious about shakuhachi making," he advised me last year, "you should begin in the grove and harvest your own bamboo." For two full days he took us, step-by-step, through the entire process from digging to curing complete with written notes on how to identify the species and age of bamboo as well as locating culms with the proper nodal spacings. Our adventure culminated with over 100 pieces of bamboo harvested and shipped to my workshop in Shikoku along with a gift of custom-made bamboo digging tools of Nakamura-san's design. I am eternally grateful him and deeply appreciative of his openness and generosity which comes from a sincere desire to see interest in shakuhachi grow all over the world.
Photos of Harvest and Aburnauki in Osaka

| | | | | | | | | | |
| --- | --- | --- | --- | --- | --- | --- | --- | --- | --- |
| 1 | 2 | 3 | 4 | 5 | 6 | 7 | 8 | 9 | 10 |
Visit to Kyoto

From Osaka, we made our way to Tokushima on Shikoku Island with a brief stopover in Kyoto where we connected with our son Yukon who is living and working in Japan. In Kyoto, we had a chance to visit John Einarsen and his family. John is editor of The Kyoto Journal, an exceptional English-language magazine focusing on issues in Japanese culture and society from a unique perspective. Recommended reading! We dropped in, as well, on Junji Kagata at Takehei, a bamboo shop in Kyoto which has been in business for over 80 years. Amongst the wide variety of unique and rare bamboos available at this incredible store is Sousoutaké, madaké bamboo originally used as roof rafters in traditional houses nearly a century-and-a-half old. I obtained some of this special bamboo in sizes suitable for shakuhachi.
On to Shikoku

After five busy days of travel and work, Kayo, Yukon and I finally arrived in Shikoku. The remainder of our visit was spent in Kitagawa, a small farming village in Tokushima Prefecture where my in-laws reside and my shakuhachi workshop is located. Heavy boxes of madaké followed right behind us, so the next few days were preoccupied with "aburanuki" or removing oil from the freshly harvested bamboo. A charcoal fire provides radiant heat that will force the resin from the bamboo without burning the skin. This work is slow and delicate, so by the fourth day, the entire family was involved in the process. Word travels fast in a village the size of Kitagawa. It wasn't long before several of the neighbors stopped by to see what on earth was going on and check out the line of bamboo set out to dry in the sun along the garden wall. (While setting the roots out to dry, we experienced a near total eclipse of the sun. I will take that as "good" omen.)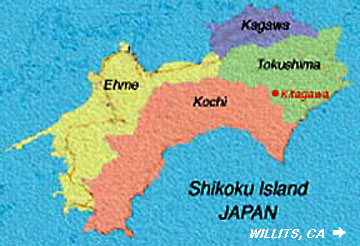 Photos of Aburnauki in Shikoku

| | | |
| --- | --- | --- |
| 11 | 12 | 13 |


My father-in-law is a farmer who has spent 50 years of his life in the forestry business (He and his wife planted 80,000 cedar trees in a five-year span), growing yuzu (a Japanese citrus) and shitaké mushrooms. In no time at all he became an expert on madaké and, soon, we were off an excursion which took us across the island of Shikoku in search of bamboo for shakuhachi. With the help of Kayo's uncle and a friend of my father-in-law from the Agricultural Union, we found exactly what we were searching for - a place where nothing but madaké grew as far as the eye could see. Quite amazing after viewing only small patches of madaké nestled between large tracts of moso and hotchiku. Plans are underway now to locate appropriately sized groves and return next winter for a major harvest. It appears - if the gods are willing - that I will be able to dig all of my own bamboo for shakuhachi in the years to come.

- Monty