Making the Native American Style Flutes
USING A LATHE & MACHINE TOOLS
This video tutorial goes through all the steps required to make a Native American Flute using a motor-driven lathe and other machine tools. Most importantly, how to do it in a manner that is both safe and efficient.
Bill provides step-by-step instructions on how top turn the body of the flute and fabricate the interior bore to precise dimensions. He demonstrates and explains all the tools and techniques used to fabricate the fipple-type mouthpiece and drill finger holes so intonation of the flute is accurate.
Bill goes over the process from start-to-finish and spends a great deal of time on equipment, tools, jigs, safety, and finishes. This 2-hour video that is packed full of knowledge—a valuable resource for any flute maker at any level regardless of experience.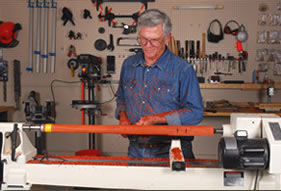 Running Time: 2 Hours, 13 Minutes